International Foundation in Humanities and Law
Prepare for direct entry to Year 1 of an undergraduate degree in a range of subjects such as Journalism, Law, Sociology and Psychology at City, University of London.
Course features
Develop the knowledge and skills for your chosen degree through a specialist pathway.
Guaranteed university placement for all successful students. Find out more about our money back guarantee.
Adapt to studying in the UK thanks to modules designed to equip you with the skills you need for university.
Guidance with your university applications, so you choose the best degree for you.
Apply
Your course options
View detailed course content by selecting one of the options below:
Please select your course delivery method with the toggle below.
---
---
---
---
Study one (or more) term(s) of English before continuing on to your academic pathway programme. Perfect if you need to improve your English level by 0.5 IELTS point.
English language requirements:

IELTS 5.0 (with a minimum of 4.5 in writing) or equivalent.

Age requirements:
16 years and above


All 16 year olds wishing to join an INTO City, University of London International Foundation must meet our current entry requirements and be 16 years old on the start date of their INTO City, University of London course.

Academic requirements:

Completion of 12 years of schooling (or the local equivalent to meet the same standard) with good grades. Students intending to progress to Journalism or Law: Some previous familiarity with arts, humanities or social science subjects may be desirable.
Scholarships
Are you top of your class? At INTO City, University of London, we are committed to awarding gifted international students with academic scholarships, helping them achieve their goals of studying at a world-class university in the UK.
With a range of generous scholarships on offer for the highest-achieving students, you could be eligible to receive up to £4,000 towards your tuition fees.
If you can't see a scholarship that applies to you, keep checking back – this page is regularly updated with the latest information.
---
Start date
End date
Course length
Fees
21 September 2020
3 September 2021
4 Terms
View Term dates
£19,495
28 June 2021
17 June 2022
4 Terms
View Term dates
*
*Please note the dates and prices for the academic year 2020-2021 are not yet confirmed.

We will confirm all dates and prices for the academic year 2020-2021 on or before 20 January 2020, with the prices being subject to a maximum increase of up to 5% on the prices for the current academic year.  If you submit an application prior to this date and are eligible to be issued with an offer of a place it will contain pricing for the current academic year. If you accept an offer and confirm your place before 20 January 2020 you will be charged the current price. If you accept an offer and confirm your place on or after 20 January 2020 the increased prices will apply and we will issue you with a new offer showing the new prices payable by you.
---
Maximum class size (for English language teaching):
18
Class duration:

English classes per week: 4-6 hours
Subject module classes per week: 18-20 hours
Average total per week: 22-25 hours

Morning and afternoon classes are held Monday to Friday between 09.00 - 18.00 excluding bank holidays.
---
Featured progression degree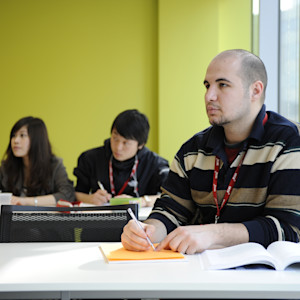 If you're looking to pursue a legal career, look no further. Established in 1852, the City Law School has an eminent history of educating Law students. City was the first institution in London to educate students at all stages of legal education and continues, to this day, to provide a quality foundation in Law.
You'll be taught through a mix of traditional lectures, seminars and tutorials. But we'll also develop your verbal skills through the art of debating and "mooting" – a key part of being a Law student at City.
Whether you want to be a barrister or a lawyer, this degree will enhance your transferable skills and develop the essential skills and knowledge necessary for a career in Law.
---
All students complete modules tailored to your chosen degree subjects.
How will I be assessed?
Assessment is both formal and informal. Entry to all City, University of London honours degrees is highly competitive, so the purpose of the assessment process is to help you improve and build on your success. Marks from the International Foundation programme do not count towards a final degree, but help the University to determine whether you meet key criteria for progression.
You will receive support from your tutor throughout your course and be assessed by a combination of:
exams at the end of each term
coursework which may include: written assignments, reports, practical exercises, group and individual research projects, presentations and problem-solving exercises