Glasgow Caledonian University: engage with the world
GCU is an institution immersed in industry and the professions, with a wealth of career-focused programmes and facilities designed to develop your skills and meet your future career goals. Bridging the gap between learning in a classroom and receiving valuable industry experience, GCU students engage with their education – will you join them?
Why choose Glasgow Caledonian University?
Specialist, accredited programmes – GCU has a unique and contemporary degree offering with programme accreditations from professional bodies across a wide variety of subject areas
Industry experience opportunities – work placements are offered on 72% of undergraduate degrees, giving you the opportunity to interact with industry-leading companies during your degree programme
Innovative facilities – designed to help you gain the skills that employers want, GCU has a modern learning environment filled with cutting-edge facilities
Apply
Explore the University
What are my course options at INTO GCU?
---
---
Where will I study at the University?
You will study on GCU's fantastic city centre campus in Glasgow. Initially based at the INTO Centre during your INTO course, you will benefit from the University's innovative facilities and modern learning environment.
Explore the INTO centre
---
What's life like in Glasgow for students?
Glasgow is the largest city in Scotland and one of the UK's major cities for commerce, education and the arts. This thriving city offers a low living cost, a safe and welcoming community, and limitless opportunities for students, including:
close proximity to international businesses leading the way using the latest technologies, such as J.P. Morgan and Ernst and Young
the largest entertainment venue in Scotland – The SSE Hydro – that hosts live music from the world's most popular bands
food from all over the world in its many international restaurants and supermarkets, from Chinese, Japanese and Thai to Indian and African
Explore the city
From uncertainty to student presidency: Hisham's story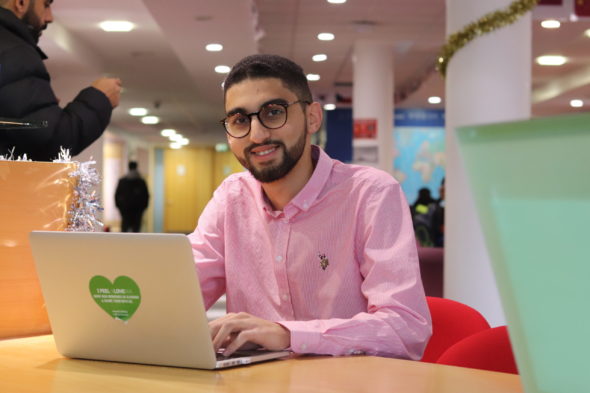 Hisham, from Saudi Arabia, shares his experience of studying at INTO Glasgow Caledonian University and becoming the Student President.
Read more >
---
How will INTO GCU support me?
INTO GCU will support you as soon as you arrive, to the moment you leave. Our Student Services team will help you settle into Glasgow, offering the following services:
international orientation to tour campus and meet other students
expert help and advice on renewing your visa
help opening a bank account and registering with a local doctor
counselling services if you would like to talk to someone
extra support for students under the age of 18
How we'll support you
---
Where will I live at Glasgow Caledonian University?
You will have a choice of accommodation options, most of which are located very close to campus. The most popular living options include:
Liberty Park – modern flats just a 5-minute walk from the INTO Centre, comprising a private bedroom with en suite bathroom, a communal kitchen and living area, laundry facilities and a games room
Caledonian Court – safe and friendly accommodation located across the road from campus, with private bedrooms and communal kitchens
Explore your accommodation