Accommodation at INTO Illinois State University
You are required to live on campus for the first two academic years if you have not been out of high school for more than two years and if you are enrolled in Academic English + International Year One, International Year One, or Undergraduate Direct. International students who live on campus live in the Hewett -Manchester residence hall complex. The complex is a short distance from Milner Library and the Student Center and offers themed living-learning communities that group students who have common academic interests. For graduate students and those enrolled only in Academic English, INTO Illinois State offers an off-campus housing option: one- or two-bedroom apartments, only 1.5 kilometers from campus.
Student Residences at Illinois State
Living on campus gives students the opportunity to interact with other undergraduate students within conveniently located residence halls. Residence halls plan hundreds of educational, social and recreational programs each year making it easy to make friends. Students can also enjoy several amenities such as computer labs, study areas, wifi and nearby fitness and laundry centers.
Back
About this room
INTO Illinois State provides an off-campus housing option at the nearby Vernon Stables apartment complex only for Graduate Pathway and Academic English students. Vernon Stables is less than 1.5 kilometers from campus in a safe, quiet area. Furnished one- and two-bedroom apartments are available.
Pricing for the 2019-20 School Year:
Fall 2019 - $6,500 (1-bedroom), $5,300 (2-bedroom, per person)
Spring 2020 - $6,500 (1-bedroom), $5,300 (2-bedroom, per person)
Summer 2020 - $3,125 (1-bedroom), $2,825 (2-bedroom, per person)
12-month lease - $10,745 (one-bedroom), $8545 (2-bedroom, per person)
You will need to pay INTO Illinois State a $2,000 deposit to reserve housing. This will cover your move-in costs, security deposit and your first payment. Future payments will be made monthly to the property manager.
Details
Apartments include:
Full-size bed and dresser for each bedroom
Bed/bath linens and pillow
Full kitchen with appliances
Dishes/eating utensils
Desks/desk chairs
Living room furniture
Smart TV
Internet access
The complex also features a swimming pool, fitness center and laundry facilities (two-bedroom apartments have a washer/dryer in the unit). Smoking is not permitted in the apartment. The floor plan shows a two-bedroom option.
Floor plan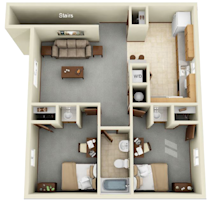 Next steps
Simply select your preferred accommodation option as part of the INTO application process.