Studying at INTO Newcastle
At INTO Newcastle we'll make sure that you're prepared for the challenges and expectations of studying at Newcastle University. During your pathway we'll help you to develop critical academic and language skills designed to help you succeed at one of the UK's top universities.
We'll guide you through the process of developing your essay writing and study skills, critical thinking and presentation skills, English language skills and your overall academic subject knowledge. University style seminars and lectures will give you a taste of what to expect when you progress.
---
Get to know your teachers
Your teachers at the INTO Centre understand how challenging it can be to learn in a new study environment, so will help you get accustomed to the new education system from your first class. They will prepare you for university study, offering one-to-one attention whenever possible.
More about our teachers
Academic support
Our team of staff understand the challenges you might be facing as a student studying in a new language. Having helped countless students over the years to meet their goals, you're in safe hands.
More about student support
---
What can I expect from the UK education system?
A typical UK degree will include a range of teaching methods.
Lectures are large classes, where you'll be taken through concepts and theories, and shown how these apply to the real world.
Seminars and tutorials are small classes with presentations, discussions and informal debates, and where you can ask questions.
Many courses have practical workshops to develop your real-world skills.
Some courses (known as "sandwich degrees") offer a year's industry placement in full-time employment.
You'll need to manage your own time to conduct research outside of the classroom, prepare assignments, and study for exams. These will assess your own understanding of a subject, rather than your ability to memorise and repeat the facts you've been told.
For many international students, being responsible for their own learning is one of the hardest challenges they'll face. Your INTO pathway course will help you build your independent learning skills, teach you how to reference sources and structure your academic essays, and give you with constructive feedback to help you be the best you can be.
Gaining confidence, a scholarship and my own business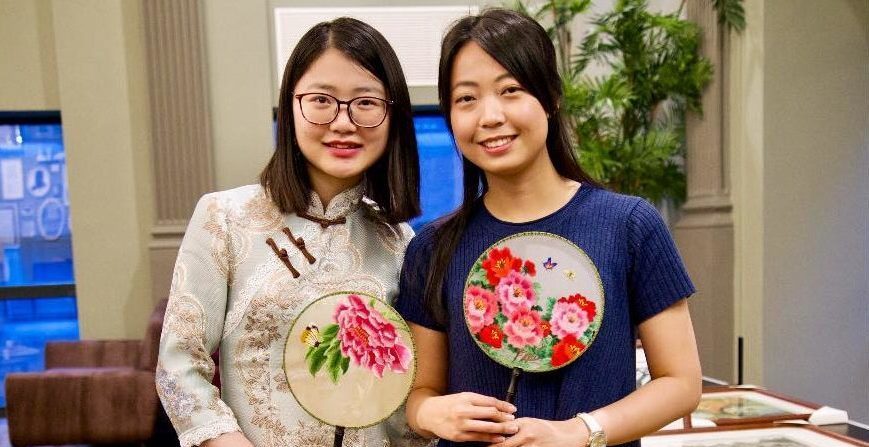 INTO Newcastle University alumni, Lingly received an international scholarship within her first six weeks! She now has her own Chinese embroidery business.
Read more >
---
Feedback on your progress
Feedback on your progress General assignment-specific feedback is provided throughout by the teaching team. Students receive a Semester One report in the middle of the semester, a Semester One marks report at the start of Semester Two and their Final marks at the end. In total you'll receive three transcipt reports on your progress at INTO Newacstle. Counselling on your grades and progression will take place at the beginning of Semester Two with your Personal Tutor, with the support of the Student Progression and Placement Manager.
---
Your attendance at INTO Newcastle
Your attendance during your INTO programme You are expected to attend all timetabled classes, be aware of any changes to your class time or room and attend any other events set by INTO, such as extra classes. If you know that you will miss a class due to illness or another reason, you should contact your INTO Centre to let them know. We encourage you to be actively involved in every part of your studies by preparing in advance for your lessons, asking and answering questions in class and working with your classmates.
---
Timetables
Timetable are created by the Academic Support Team at the INTO Centre. You'll receive a hard copy of your timetable on the Friday of your induction week but you can access your timetable any time on the Newcastle University App. The modules you'll study as part of your programme at INTO Newcastle will depend on what pathway you choose. Timetables usually change every semester.