Don't wait. Get your visa. Join us on campus this September.
If you can't arrive on time, start online. Join us on campus as soon as you can travel.
There isn't just one route to success. This September, our flexible study options will keep you on track for university success – whether you start on campus or online at home.
At our Centers in the UK, you have the additional flexibility of being able to arrive as soon as you can travel, so there's no need to wait until the end of term to start your study abroad experience.
Updates for students applying to universities in the UK or US
Students applying to UK universities
For September 2020, you can start your pathway at one of our Centres. We will be offering interactive learning through a mixture of online and in-person teaching in small groups that follow government guidelines, ensuring you can study safely.
If you are unable to arrive in time to start your studies, you can also stay on-track with your education by starting your studies online. You can then join us in person as soon as it's possible for you to travel – there's no need to wait until the end of term. Arrive any time and we will fully support you with the transition to ensure that it does not impact on your learning.
Start building your future online or in the UK – the choice is yours!
Students applying to US universities
If you are not currently living in the US, we encourage you to confirm your program for an online start. If you are living in the US, we are planning to welcome students on campus for face-to-face instruction. We will continue to provide updates to your upcoming program as the situation evolves.
When you are able to travel to campus, we will make sure you are safe there. There will be measures in place to ensure the campus community can follow social distancing guidelines, as well as increased cleaning services and hybrid online and face-to-face courses.
Whether you're studying at home or abroad, we are with you every step of the way.
INTO's Triple Promise: our flexible learning solution
You have the flexibility to decide how and when you'll take the next step towards your degree. If unable to attend a course* face-to-face, you can personalize your enrolment needs with INTO's Triple Promise.
Whether you choose an online course, defer your start date, or request a refund on pre-payments, we have all options covered.
*Our Triple Promise applies to INTO programs only – if you are applying directly to a university degree, please contact the relevant university for further information.
Why start online?
During these uncertain times, you can still count on earning your degree on the same schedule and with the same expert teachers and career-ready courses. By starting your online, you will:
gain the independent working techniques needed to excel in today's job market
talk to classmates around the world using our live chat feature and discussion forums
access our in-country support services that will enhance your online student experience with face-to-face support for you and your parents, in your time zone and local language
receive a high quality teaching from teachers that have experience in delivering education online and with the latest e-learning technologies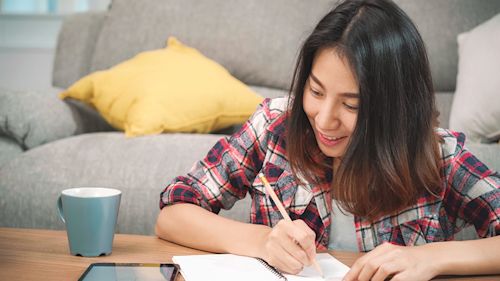 Top tips to stay motivated while studying from home
Five simple tips for staying motivated while studying from home, helping you to keep your spirits up and stay on top of your workload.
Find out more
Frequently asked questions about online learning