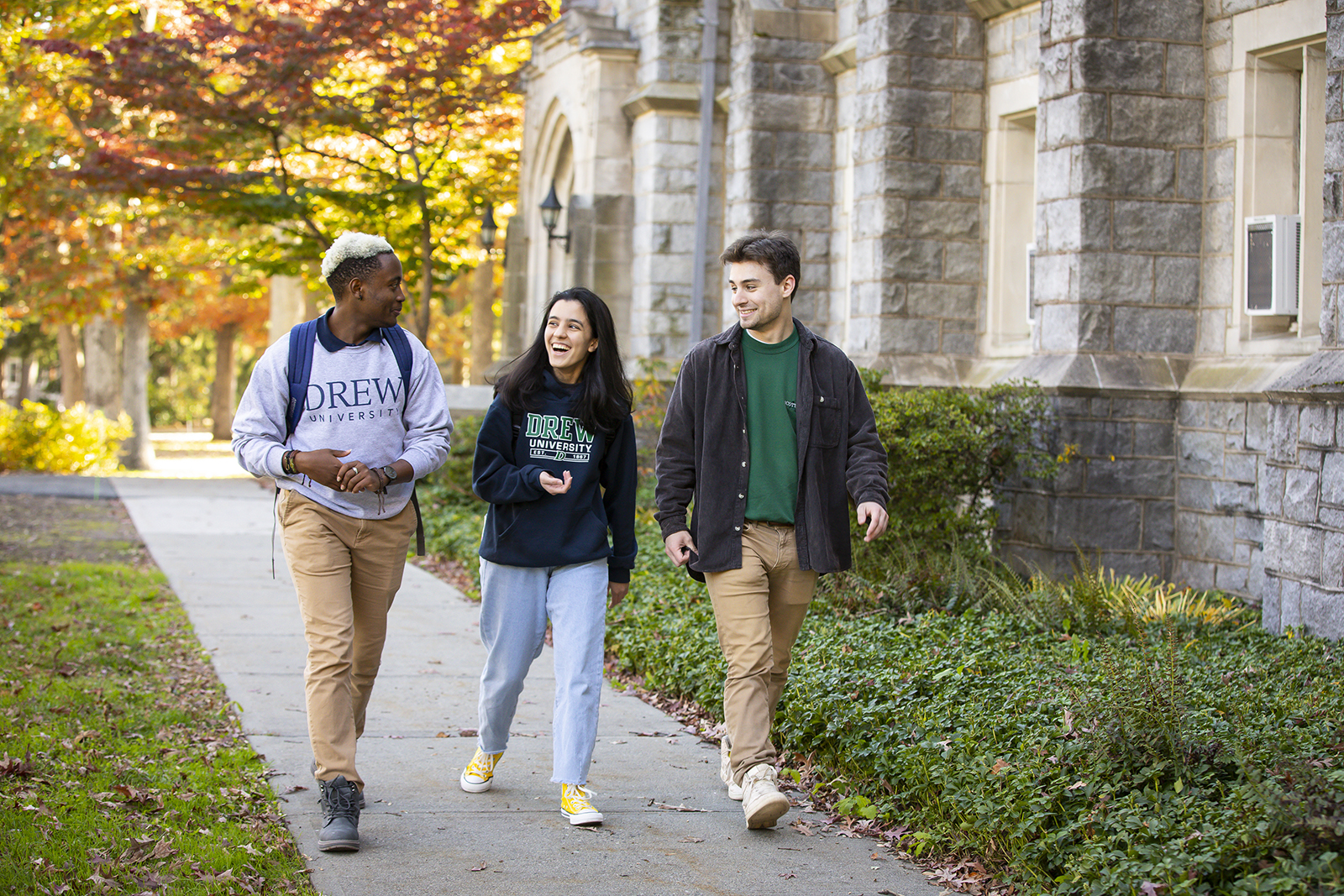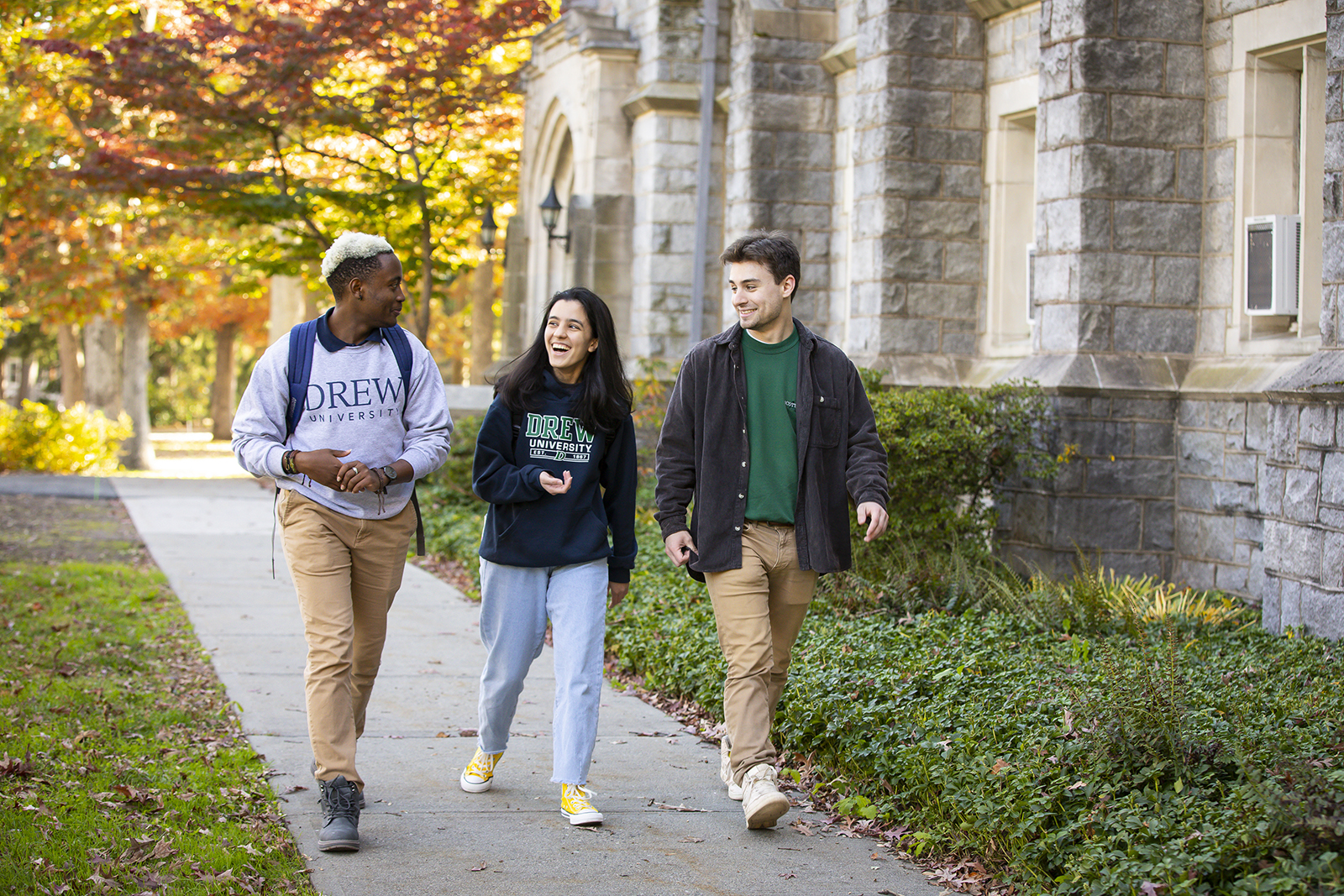 Campus life at Drew University
Drew University's hometown, Madison, is known as "The Rose City". It has a small town feel with large town amenities, which means you'll have everything you need within walking distance from campus. Within minutes of Drew's campus is one of the largest concentrations of corporate headquarters and research centers in the nation. Within an hour of Drew is the Great Swamp National Wildlife Refuge, the Jersey Shore, Meadowlands Sports Complex, Delaware Water Gap National Recreation Area, the ski resorts of the Pocono Mountains and of course, New York City.
New York City is a true melting pot of cultures. From Chinatown to Queens' Little Guyana, it is one of the most culturally diverse cities in the world and you can be there in 50 minutes by train.
Be a spectator or get in on the fun
Ranger Stadium and Doc Young Field are great places to catch one of our 22 NCAA Division III sporting events and show your school spirit. You can also join one of our many club and intramural sport activities to get in on the action. Our Simon Forum athletics facility houses basketball courts, weight rooms, 200-meter indoor track, indoor tennis courts, squash courts and much more.
Practice your faith
Your religious beliefs and traditions are important to us. At Drew, you can get involved in many clubs that celebrate religious diversity like the Hillel Jewish Student Association and the Muslim Student Association run by our own students.
Get a taste of home or go local
On or off campus, you can enjoy foods from your home country or try something you've never had before. Using your Drew Dining meal plan, find meals in our dining halls that offer a range of foods to accommodate a variety of tastes and dietary needs. The Commons dining hall has all-you-can-eat foods such as pizza, hamburgers and international foods. The Ehinger Center Food Court offers à la carte options.
In neighboring New York City, you can find an endless array of ethnic restaurants and international grocery stores. Downtown Madison also has a great selection of foods just a short walk from campus. Grab some authentic Chinese food and listen to live music at Shanghai Jazz or try some all-American cuisine at 54 Main. Need a recommendation? We can help you find the perfect place.
Healthy living
As international students, you and your dependents are required to have insurance coverage. Health insurance covers part of the cost of health care; you'll have to pay whatever cost remains. The INTO Drew University Student Health Insurance Plan is automatically added to your invoice.
Our health center takes pride in providing excellent health care to our students at our nationally accredited health service. We believe maintaining good health is essential to your academic success. Our easily accessible services are designed to minimize the impact of illness, injury and emotional distress on your academic career. Our staff of physicians, nurse practitioners and registered nurses offers a broad scope of primary care services including: treatment for common illnesses, physical examinations, laboratory services, vaccinations and preventive medicine services.
You will receive your Drew Health forms (Immunization Record and Physical Examination) via email. These must be completed in English and signed by a doctor before you arrive. If you are living on campus, you are required to have the meningococcal vaccination. You must submit proof of this vaccination BEFORE you can move into the residence halls.