George Mason University: Study in the nation's capital
Live on the edge of Washington, DC, the capital of the United States. We're a hub for business, culture, government and research. Brimming with innovation and opportunity, George Mason University is central to it all—and puts you on the fast-track to career development and networking in leading industries. You choose your path to success with flexible learning options available on campus or online. To learn more, click here.
Why choose George Mason University?
- An international epicenter - find yourself in the city that lives and breathes diversity. Join students, professionals and leaders from all over the world who have made DC their home.
- Network for your future career - you'll find the opportunity to network both on campus and right outside your front door with Fortune 500 headquarters located all over the city. Participate in student-run organizations that connect you with your industry and get to know your faculty and fellow alumni who have made impressions in their field. Whether you have entrepreneurial or research interests, our university and city will prepare you for what's next.
- High-ranking degrees - Complete your university experience with a degree that wows others in your field. Our highly ranked programs ensure that you receive the most updated curriculum and innovative research. You'll graduate knowing that you are equipped with all the right tools to succeed.
Apply
Explore the University
---
---
Your INTO Center
As a Mason student, you have access to all the university facilities including recreation centers, dining halls, more than 30 on-campus restaurants, a state-of-the-art library, arena, research labs, performing arts centers, Innovation Exchange and more!
Explore the INTO center
---
Life in Fairfax
There's no place in the US quite like the Washington, DC area. Want to visit historic monuments like the Lincoln Memorial, the White House or the Capitol Building? Take a free campus shuttle to the train station, and you can be in downtown Washington, DC in 45 minutes. Downtown Fairfax is a short, 15-minute walk from Mason's safe, suburban campus. There you'll find a mix of cafes, restaurants and shops to meet your friends.
Explore the city
Students share their New Year's traditions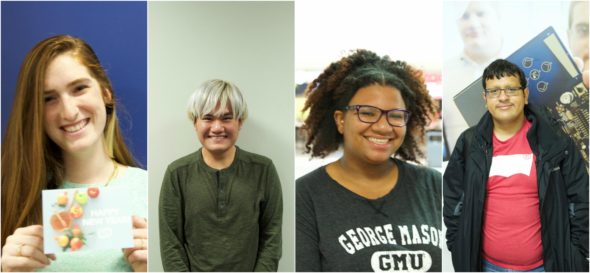 Studying abroad is a fantastic opportunity to meet people from all over the world and learn about their traditions - INTO George Mason students share theirs.
Read more >
---
Dedicated support while you study
Student support is part of everyday life as a student at Mason. When you choose our university for your study abroad journey in the US, you choose international excellence and the support you need to succeed in your undergraduate or graduate degree.
How we'll support you
---
Your accommodation
At INTO Mason, you will benefit from the convenience of being located near your classrooms, libraries, student centers, gyms and dining halls. The Housing and Residence Life team is available 24 hours a day to assist you. Our Student Experience team helps you meet friends from around the world with fun and engaging social activities on campus every month.
Explore your accommodation