George Mason University: Your best data-driven decision
George Mason University is a top-ranked public university in the heart of the Northern Virginia tech corridor and just 45 minutes from Washington, DC.
Mason prepares students to succeed in any field with training in in-demand skills, including in business analytics, engineering, cybersecurity, international relations and other areas that thrive here. We're ranked in the top 20 for most innovative schools in the nation, as well as for ethnic diversity (U.S. News & World Report 2023).
Learn more about study abroad here
Why choose George Mason University?
Washington, DC is an ideal place to pursue a career in public policy or international relations with numerous nonprofit organizations, 177+ foreign embassies and international cultural centers.
Washington, DC is the 3rd tech talent market in the US (CBRE 2022) and the No. 12 best metro area for STEM professional opportunities (WalletHub 2021). As of June 2022, tech workers in the Washington metro area make 97% of what those in San Francisco earn (Carta).
Northern Virginia is also a major hub of technology and business, with 15,600 tech firms and 11 Fortune 500 companies.
Mason is creating a pipeline for talent into our local community, where technology leaders like Amazon, Google and Microsoft have established headquarters with plans to bring thousands of new jobs to the area. We've expanded our computer science programs by increasing enrollment and invested $250 million on a new School of Computing at Mason Square, and a digital innovation hub.
We have career fairs with 700+ employers and provide OPT (Optional Practice Training) workshops and strong professional networks to connect you with alumni in your industry. 88% of Mason graduates report a positive career outcome within six months of graduation.
Engineering at Mason has earned a reputation for advancing information security in the US. We are ranked the No. 94 best undergraduate engineering program and have four graduate engineering programs ranked in the top 100. Similarly, we have the expertise to discover and develop cybersecurity talent with the No. 19 best program in the US (U.S. News & World Report 2023).
Your INTO Center
As a George Mason student, you will have access to all university facilities. These include recreation centers, dining halls, 30+ on-campus restaurants, a state-of-the-art library, performing arts centers, research labs and the Innovation Exchange.
Life in Fairfax
Fairfax is a safe, residential city in the heart of Northern Virginia. You'll find restaurants, shops and theaters all within walking distance of campus. There are free shuttles around Fairfax and to the Metro station, where you can travel directly into Washington, DC.
Mason Square is in Arlington, Virginia and will be only a short distance from Amazon's H2 headquarters. You'll find great restaurants here like Mala Tang, serving Sichuan hot pot and El Pollo Rico, known for its Peruvian chicken. Other attractions include the Arlington Arts Center for visual arts and the largest park in the area, Quincy Park.
Students share their New Year's traditions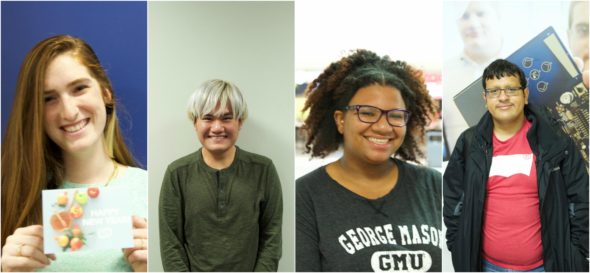 Studying abroad is a fantastic opportunity to meet people from all over the world and learn about their traditions - INTO George Mason students share theirs.
Read more >
Dedicated support while you study
We'll help you every step of the way, from your application to the graduation stage here at George Mason University. When you choose INTO Mason for your study abroad experience, our staff will support you with what you need to succeed in your undergraduate or graduate degree.
Learn about INTO Success stories. Meet our alumni
Your accommodation
The Housing and Residence Life team is here to help you settle into life on campus. They are available 24 hours a day to assist with any problems you may have.
Our Student Experience team is also here to help you meet friends from around the world and here in the US with fun social activities on-campus planned every month.
At INTO Mason, you'll benefit from being conveniently located near
Classrooms
Libraries
Student centers
Gyms
Dining Halls