Accommodation at INTO Manchester
We're looking forward to welcoming students to Manchester in 2021. The safety and wellbeing of our students is paramount and we're working to ensure that our accommodation will provide the facilities and services students need, while enabling Government guidance around social distancing to be adhered to. In line with this, accommodation options and availability may be subject to change at short notice.
Until further notice, only single occupancy rooms will be available, and students will not share bathrooms. Common and shared spaces, such as laundry rooms and kitchens, have been adapted to allow students to live together safely, with more frequent cleaning.
Students are encouraged to continue to apply for accommodation as part of their application and will receive further instructions for confirming their room. Rooms will be available throughout the year but it's important that you only book accommodation when you know you're able to travel to the UK. You'll be charged for your accommodation from your agreed arrival date based on the weekly accommodation prices.
All accommodation on this website represents an example of a typical room and its available features. Please email manchester.accommodation@intoglobal.com to find out more information about what we offer
En suite student residences
INTO Manchester en suite student accommodation is situated close to the INTO Centre, Manchester Piccadilly train station and the University.
There's also lots of restaurants, cafés and shops nearby, making it the perfect place to be at the centre of everything.
The accommodation offers:
on-site maintenance and housekeeping
bicycle racks
laundry facilities
fully equipped kitchen with microwave
sofas
wall-mounted flat screen TV
Back
About this room
Each apartment consists of 6 rooms with a shared kitchen and dining area.
Typical price: £7,524-£7,920
The price is based on a 3-term academic programme starting in September 2021.
Details
Each en suite bedroom includes:
three-quarter sized bed (plus bedding pack including duvet, pillows and sheets)
wardrobe
under-bed storage space
study desk and chair
Floor plan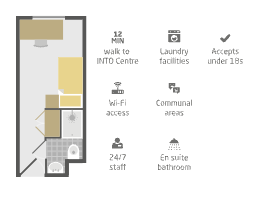 Next steps
Make your application and our enrolment counsellors will be in touch to guide you through your accommodation options.