Accommodation at INTO Manchester
We're looking forward to welcoming students to Manchester. The safety and wellbeing of our students is paramount and we're working to ensure that our accommodation will provide the facilities and services students need, while enabling national COVID-19 regulations to be adhered to. In line with this, accommodation options and availability may be subject to change at short notice. Common and shared spaces, such as laundry rooms and kitchens, have been adapted to allow students to live together safely, with more frequent cleaning.
Students are encouraged to continue to apply for accommodation as part of their application and will receive further instructions for confirming their room. Rooms will be available throughout the year but it's important that you only book accommodation when you know you're able to travel to the UK. You'll be charged for your accommodation from your agreed arrival date based on the weekly accommodation prices.
All accommodation on this website represents an example of a typical room and its available features. Please email manchester.accommodation@intoglobal.com to find out more information about what we offer.
En suite student residences
Our accommodation options are located just a short train or bus ride from the INTO Manchester Center. There are also lots of restaurants, cafés and shops nearby, making it the perfect place to be at the center of everything.
The accommodation offers:
bike storage
free gym
free parking
games room
laundry
Other services include 24/7 security, all bills included, content insurance, free Wi-Fi and free events.
Please email manchester.accommodation@intoglobal.com for more information about the available accommodation options.
Back
About this room
Each apartment consists of 6 rooms with a shared kitchen and dining area.
Typical price: £7,524-£7,920
The price is based on a 3-term academic programme starting in September 2021.
Details
Each en suite bedroom includes:
three-quarter sized bed (plus bedding pack including duvet, pillows and sheets)
wardrobe
under-bed storage space
study desk and chair
Floor plan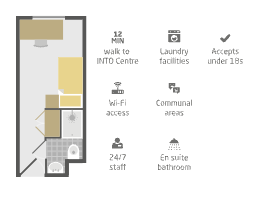 Homestay (for Under 18s)
Homestays are a popular choice for international students visiting the UK. This accommodation option gives students the opportunity to practise their English and experience a different way of life in a friendly and informal setting.
Most homestays are situated within 30-55 minutes of the city center with good transport links. There are two homestay options available - standard and superior.
Please email manchester.accommodation@intoglobal.com for more information about homestay options.
Back
About this room
A private room in the home of one of our carefully selected hosts, where English is spoken as the main language.
Details
Hanging and drawer space and storage for clothes.
A space to study, either in the bedroom or the main part of the house.
A weekly change of towels and bed linens.
Shared use of the bathroom.
Access to laundry facilities once a week.
Next steps
Make your application and our enrolment counsellors will be in touch to guide you through your accommodation options.