Newcastle University: research-led degrees that make a difference
Enjoy a world-class education at Newcastle University – an internationally-recognised institution in one of the UK's favourite student cities. As a member of the Russell Group, its teaching is inspired by globally excellent research – and a Newcastle University degree is held in high regard by employers across the world.
Why choose Newcastle University?
A top-ranked education – Newcastle University ranks as one of the top 150 universities in the world (QS World University Rankings 2020)
Highly employable graduates – the University has one of the best records for graduate employability in the UK
Student city location – a vibrant campus with a long history of excellence, located in one of the most popular student cities in the UK
Apply
Explore the University
---
What are my course options?
Every course at INTO Newcastle University is designed to prepare you to study at Newcastle University. We'll help you improve your English language skills and give you everything you need to progress to your chosen degree.
Popular courses at INTO Newcastle University:
You are guaranteed progression to Newcastle University, provided you successfully complete your INTO course and meet the progression requirements for your chosen degree. We offer the following pathways to help you get there:
View courses
---
---
Where will I study my preparation course?
For the duration of your INTO programme, you'll study at the INTO Centre at Newcastle University. You'll love the friendly vibe of the modern Centre, which is fully equipped with excellent learning and support facilities.
Explore the INTO centre
---
What is life like in Newcastle for students?
With heaps of character, friendly locals and a thriving student community, Newcastle is by far one of the UK's favourite cities to study in. Living costs are affordable and it's compact enough to explore on foot – so you'll never be far from the action! You can discover:
music concerts at The Sage, modern art at The Baltic and historical Georgian architecture across the city
offices and headquarters of large international companies including Accenture, The Sage Group, Formica Corporation and Ubisoft
some of the best shopping in the UK and an acclaimed nightlife scene
Explore the city
Why choose to study in Newcastle?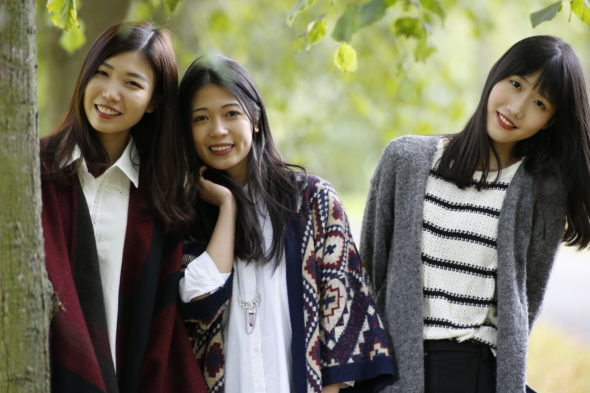 Tracey from China tells us why she loved studying in Newcastle. From the supportive teachers to exciting nightlife and even meeting her partner. Read more.
Read more >
---
How will INTO Newcastle support me?
As soon as you arrive at INTO Newcastle, you'll experience the excellent support offered by our dedicated Student Experience team. They'll help you adjust to life in Newcastle, with a variety of services including:
an exciting induction programme where you can get to know your classmates
help dealing with visa applications and opening a bank account
additional safeguarding and support for students under 18
How we'll support you
---
Where will I live at Newcastle University?
You will have a choice of living options at INTO Newcastle, located within easy reach of the Study Centre:
INTO accommodation – a single bedroom or studio with either private or shared kitchen facilities, depending on which accommodation you choose.
Homestay – a private bedroom in a local host's home in Newcastle.
Explore your accommodation