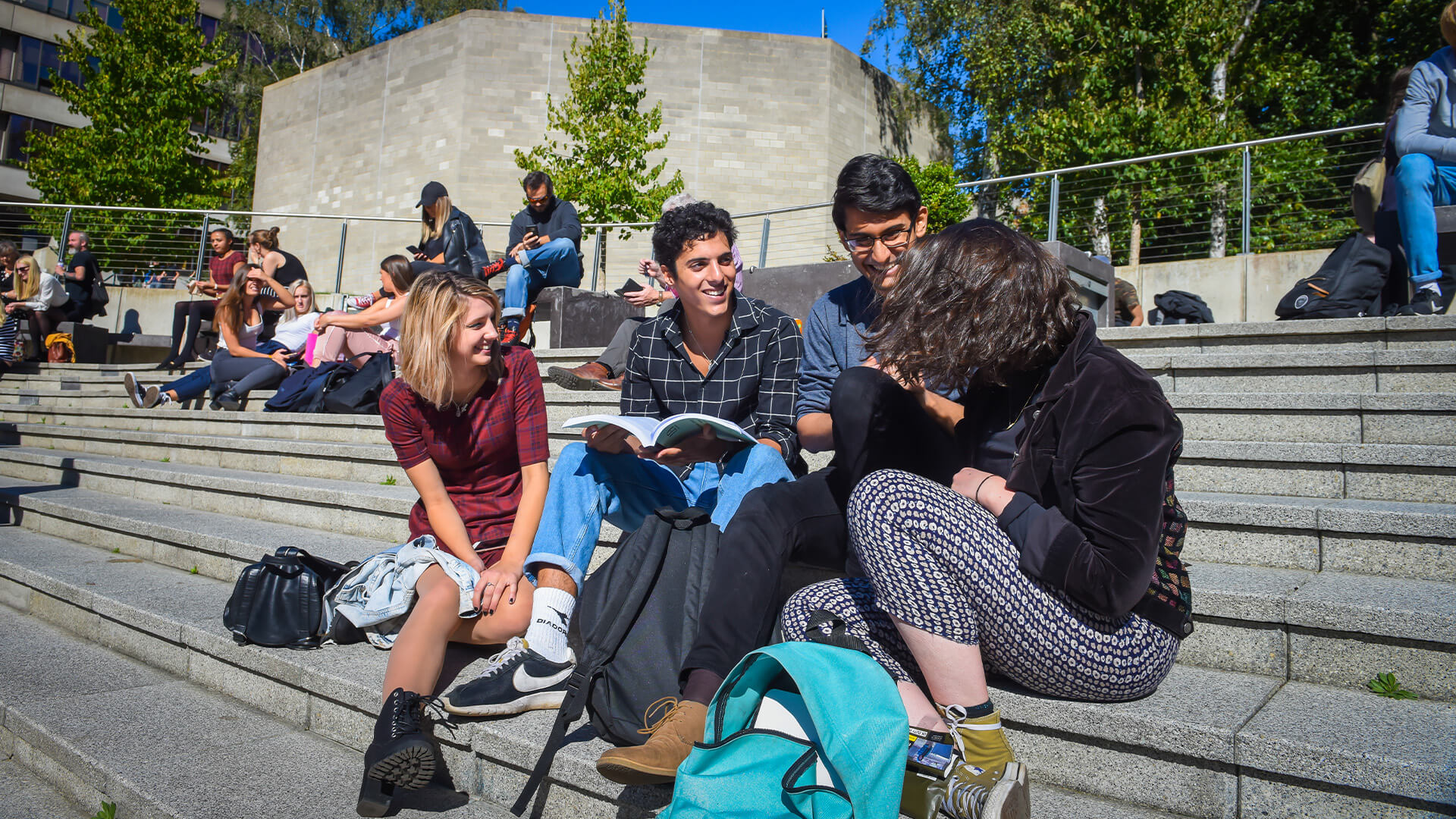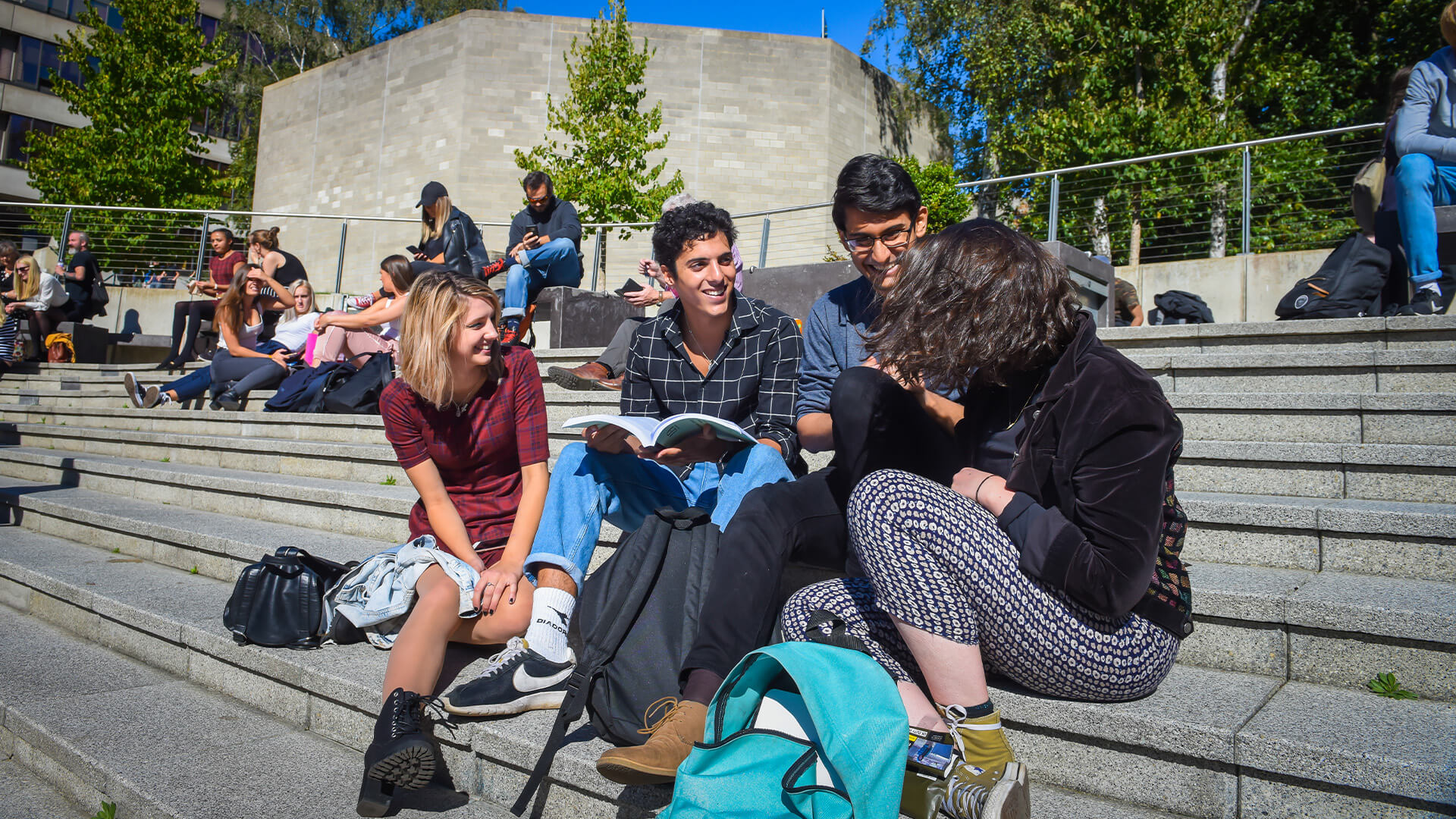 What can I expect from the UEA campus?
Described as a mini-city, UEA's campus was designed to be the ideal community environment. You'll find everything you need for daily life, such as supermarkets and a medical centre, plus a variety of entertainment options. Discover 145 hectares of scenic wildlife trails to explore too, right on campus.
The INTO Centre is in the centre of campus, so you will be part of the University community from day one.
What will I find at the Students' Union on campus?
You'll automatically become a member of the Students' Union. In Union House, you will have access to 250+ clubs and societies, including law, entrepreneurship, debating, drama, anime, music, cultural and international societies, and find all sorts of facilities run by students, for students, including:
Unio Coffee – an ethically-focused coffee shop
bar(su) and pizza(su) – two bars that host regular events and a pizzeria
The LCR – a popular nightclub and music concert venue
shop(su) – a shop containing all the student essentials
The Hive – there's always something interesting going on here!
What sports facilities does UEA have?
You'll have full access to UEA's £30 million Sportspark – one the UK's top sports facilities. Here, you can enjoy:
a 50m Olympic-sized swimming pool
an indoor fitness centre with cardio equipment and weight stack machines
badminton, squash, basketball and volleyball courts
a ten-metre high climbing wall with bouldering cave
six floodlit artificial turf pitches
the Soccerpark with four five-a-side and three seven-a-side pitches
six floodlit tennis and netball courts
40 acres of playing fields, including pitches for rugby, American football, lacrosse, cricket and baseball
You can also take part in one of 60+ sports clubs, covering everything from athletics, hockey, fencing and basketball, to table tennis, martial arts, boxing and watersports.
Is there a religious community on the UEA campus?
All students can access UEA's Multifaith Centre, which is a spiritual meeting place and community centre on campus. It offers chaplains and services for a number of religions and provides a safe and quiet space – whatever your beliefs. Faith groups available on campus include:
Buddhist community
Christian community
Hindu community
Islamic community
Jewish community
Staff will also be happy to help you find local groups for other faiths.
What food will I find on the UEA campus?
INTO UEA has a fantastic restaurant that is conveniently located in the INTO Centre. The restaurant caters for a range of dietary requirements, including vegetarian and halal options at every meal. The menu changes weekly, but meals we regularly serve include:
red Thai chicken curry (halal)
beef and root vegetable casserole
lamb kofta balls coated in a rich tomato sauce
egg fried rice
sweet chilli vegetable noodles
The INTO Café is open seven days a week, 365 days of the year. Hot meals are served three times a day with tea, coffee and snacks available all day. If you have a Meal Plan with your accommodation, you'll receive two meals here each day. UEA also has several eateries on the campus for you to enjoy, including:
Atrium Café – paninis, baguettes, snacks and hot drinks
Café 57 – a selection of sub sandwiches and salads
Sportscafé – hot food like burgers, curry, jacket potatoes and stir fries
STREAT – international street food and burgers
Zest – cooked breakfasts and dinner options such as pizza and pasta
Norwich has a huge variety of international restaurants to enjoy too. Find out about your food options in Norwich here.