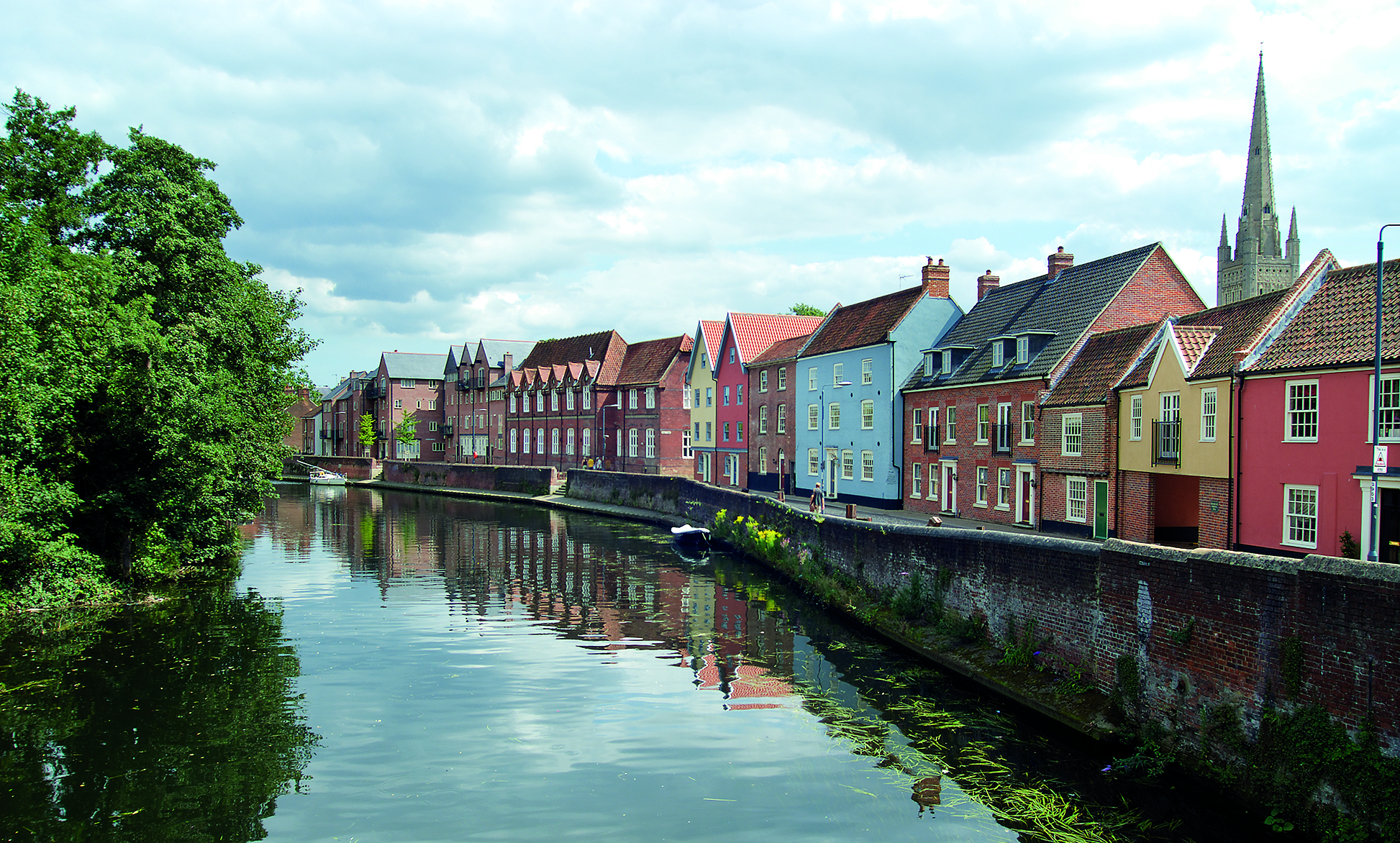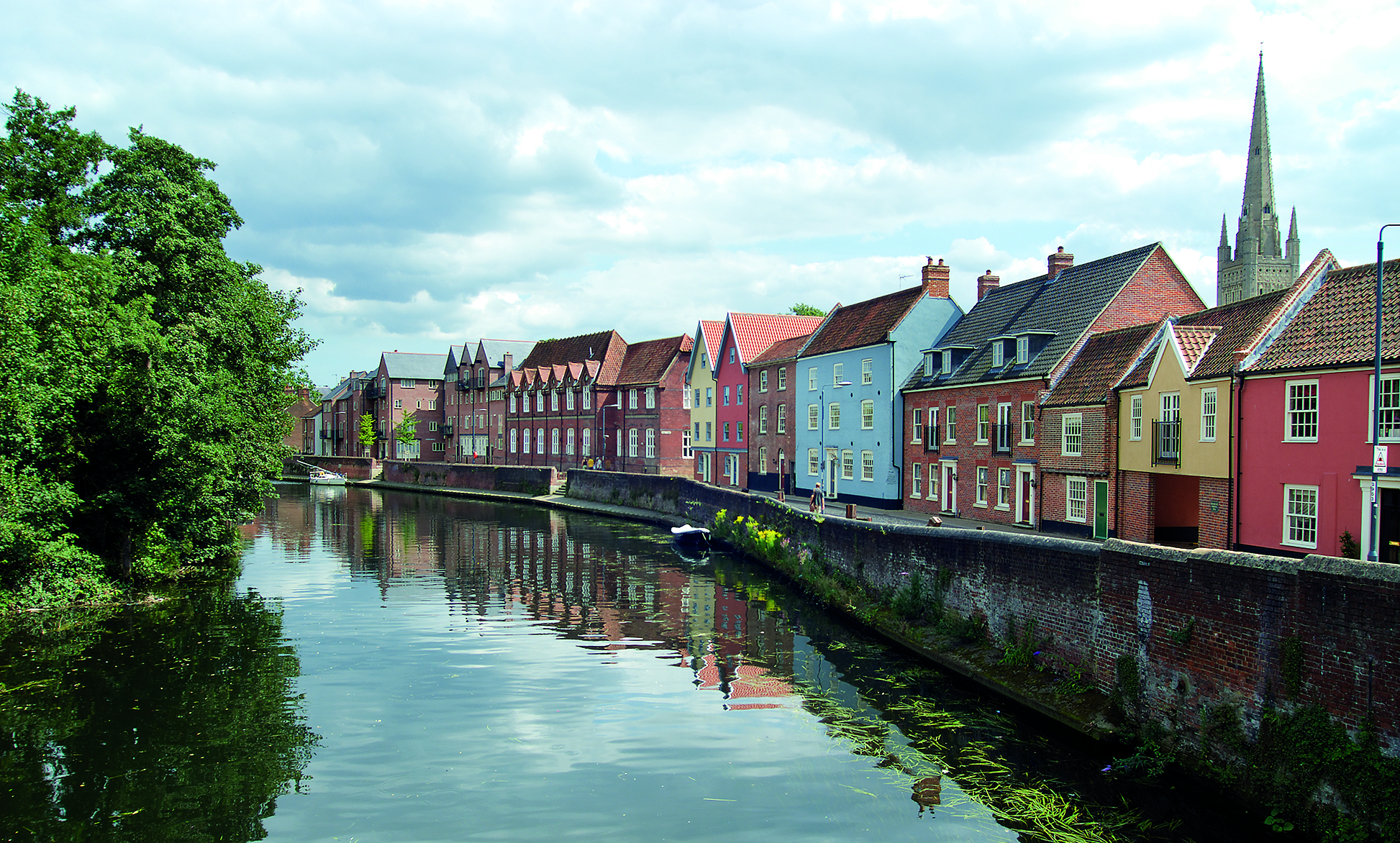 What is life in Norwich like for A level students?
Norwich is a vibrant yet safe city with plenty to do. With a large student population, the city has lots to explore to ensure that you are always entertained. One large annual event is the Norfolk and Norwich Festival, which showcases amazing circus acts, theatrical performances, mesmerising dancing and unmissable music.
The city is a great place to learn because of its vast and rich history – you'll never stop learning about this medieval city, no matter how long you stay here! Some incredible things you'll see here include a norman castle and two cathedrals. Norwich is also an extremely green city, with 23 parks and lots of woodland running through the city.
What makes Norwich a great city for students studying A levels?
History – Norwich cathedral has the second largest spire in the country, measuring 315 feet high!
Arts – Norwich has an impressive arts scene, with six theatres and one of the only two remaining puppet theatres in the United Kingdom.
Literature – The city was named the world's sixth 'City of Literature' in 2012 by UNESCO – a specialist agency of the United Nations!
Shopping – Norwich Market is the one of the oldest and largest open-air markets in Britain, selling fresh local produce within its 200 stalls for centuries.
Safety – Norwich has a history of low crime rates and is one of the safest places to live in the UK (Country Living 2018).
What is there to do for fun in Norwich on the weekends?
There are many, many things to do in Norwich for every budget. You could:
Visit museums and art galleries. Some exhibitions are free, while others charge a fee. There's even one on campus!
Eat some good food. Treat yourself to burgers or a pizza, or eat something a little healthier like sushi, curry or noodles.
Watch a movie at the cinema. Norwich has a huge range of cinemas that show Hollywood blockbusters or indie films.
Go shopping. You'll find so many shopping opportunities here, whether you want new clothes, accessories or movies.
Challenge your friends to bowling or mini golf. The city has several bowling alleys and adventure golf courses.
Succeed in an escape room. This interactive game is the biggest trend right now – and you can find one in Norwich.
What makes Norwich a great city for sports?
If you like watching sports, Norwich has its own football team! Norwich City FC is a well ranked team that plays home matches in its football ground near Norwich city centre. The City of Norwich Half Marathon is another popular event.
If you prefer playing sports, Norwich is the ideal place for you. You can find everything from watersports by the coast to trampolining in one of the trampolining parks and snowboarding at Norfolk Snowsports Club.
The best news for fitness fans is that UEA has an extensive sports complex on campus. As a Newton student, you will have full access to the Sportspark (at an additional cost), including:
50-metre Olympic-sized swimming pool
indoor fitness centre
badminton, basketball and volleyball courts
eight-lane athletics track
five squash courts
climbing wall with bouldering cave
martial arts studio and gymnastics centre
two floodlit artificial-turf hockey pitches
Soccerpark with seven pitches
six floodlit tennis courts
With our 6-week introductory sports programme, you will have taster sessions of a range of sports as you get to know your peers. You can also join classes for all levels of fitness in many activities, including tennis, archery, trampolining, gymnastics and swimming, or have a programme designed by a sports scientist.
Can I find food from my home country in Norwich?
You'll always find a taste of home in Norwich. There are a few different international and Asian food stores, as well as a wide variety of restaurants serving everything from European, Mediterranean and Indian to Chinese, Japanese and Thai food, with plenty of vegetarian, vegan, kosher and halal options. Popular restaurants include:
Wanfo House – very authentic Chinese food
Blue Joanna – award-winning Asian restaurant
Namaste Village – quality Indian street food
Jorge's – Portuguese meat and seafood dishes
Goulash House – delicious Hungarian food
As a Newton student, you will enjoy at least two meals a day in our restaurant in the INTO Centre. Catering to all dietary requirements (including vegetarian), there's a wide choice of different dishes each day – all of which are halal certified. The meals are nutritionally balanced and will help you to stay healthy and alert in class. Popular dinner choices include:
stir fries, such as chop suey
Thai, Japanese and Indian curries
battered fish or burgers with chips
pasta, lasagne and risotto
soups, such as tom yum soup
In addition to the meal plan, you can purchase further meals in the restaurant or snacks from the coffee cart. You will also share a kitchen with your classmates to cook meals together.
Where can I go shopping in Norwich?
You are bound to find exactly what you need in Norwich. The city has two large shopping centres that feature internationally-recognised high street brands, including an Apple Store, H&M, Samsung, the Disney Store and Superdry.
If you're looking for small gifts or a momento of your time in the UK, go to the Norwich Lanes to find independent retailers selling creative and homemade items. For vintage clothes and secondhand books, head over to Magdalen Street.
Can I get around Norwich easily?
You'll find everything you need to live and study happily on UEA's campus, but if you do want to explore Norwich city centre, it's only a 30-minute bus ride away. As a student, you can get discounted bus tickets, or you can cycle which only takes 15 minutes.
Where can I explore outside of Norwich?
Norfolk is famous for its beautiful countryside and waterways. There are miles of riverside walks, countless cycle paths, beautiful beaches, wildlife sanctuaries, small villages and large stately homes to visit, such as Sandringham House – the country retreat of The Queen!
Norwich has a fast and frequent train service to London which takes just under two hours, as well as good links to the rest of the UK. The bus and train networks provide many opportunities for day trips.
Our social programme offers a range of activities for you to enjoy. These may include:
tour of London
punting in Cambridge
trips in the local area, such as Holkham beach
excursion to Edinburgh
trips to Harry Potter Studios and theme parks
quiz nights, film showings and bowling
Norwich International Airport is just 15 minutes from the University campus by taxi. With frequent flights to Amsterdam, one of Europe's largest international hubs, you will find travelling to and from your home country easy.