Accommodation at INTO Newton A level Programme
High-quality accommodation makes it easier to study well and enjoy student life. You'll live in student residences on campus, which is a great way to meet new friends, develop independence and quickly settle in. The fantastic residences are purpose-built and especially designed for students and close to all the facilities you'll need. As a Newton student, you'll have an additional level of security access.
Plus, we're committed to providing you with a good housing service, and so are members of the ANUK/Unipol National Codes. This means that we follow a nationally recognised set of standards for our student accommodation, which gives you the reassurance that we're providing you with a safe and well-managed home.
Accommodation for September 2020
We very much hope to be able to welcome students to move into their accommodation in September 2020. The safety and wellbeing of our students is paramount. We are working to ensure that our accommodation will provide the facilities and services students need, while enabling government guidance around social distancing to be adhered to. In line with this, accommodation options and availability may be subject to change at short notice.
For September, only single occupancy rooms will be available, and students will not share bathrooms. Common and shared spaces, such as laundry rooms and kitchens, have been adapted to allow students to live together safely, with more frequent cleaning.
Students are encouraged to continue to apply for accommodation as part of their application. If unable to travel and begin your studies online, we will allocate any pre-payments to any outstanding tuition fees, or if you have already paid in full, credit this towards your accommodation from January 2021. If you choose to cancel your study plan, you can cancel your accommodation booking and we'll issue a full refund on any pre-payments up to, and including, the day before the start date of your programme.
Student residences
The modern, on-site accommodation has everything a student could need for comfortable living and studying, including 24/7 support from on-site residential staff.
There's a sociable, community environment in the residence, with plenty of shared spaces to enjoy with friends. The large communal kitchens include a dining table and TV, and on sunny days the outdoor courtyard is a great place to socialise and relax.
The on-site restaurant offers a wide choice of different dishes each day, caters to all dietary requirements (including vegetarian) and is fully Halal certified.
As an INTO Newton A level Programme student, you'll live in an exclusive part of INTO's residential accommodation. This includes additional security access.
Back
About this room
A private bedroom with study space, and en suite facilities.
Typical price 6-term programme: Year 1 - £20,482
Typical price 5-term programme: Year 1 - £16,758
Price includes breakfast and either lunch or dinner in the on-site restaurant.
Please note: accommodation fees are subject to an annual increase. You will be invoiced separately for your accommodation in Year 2 once you have arrived in the Centre.
Details
Single bed (with bedding provided).
Wardrobe.
Study desk with drawers/shelves and a chair.
En suite shower room.
Floor plan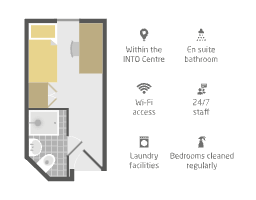 Next steps
Make your application and our enrolment counsellors will be in touch to guide you through your accommodation options.