What is studying on the Newton A level Programme like?
The Newton A level Programme has been designed to address all aspects of university preparation and support you in becoming exceptional.
You'll study Cambridge Assessment International Education (CAIE) A levels, recognized by world-leading universities in the UK and across the globe as the highest quality preparation for entry to their courses.
Your teachers on the Newton Programme
Depending on the subjects you study, you'll be supported by a variety of teachers throughout your A levels. Your teachers have decades of experience in teaching their subject area, and many are even A level examiners.
They understand how challenging it can be to learn in a new study environment, so will help you get accustomed to the UK education system in small class sizes of 14 students maximum.
Extensive university preparation support
From exam preparation and university study skills to interview preparation and guidance with university applications, the Newton Programme will support you in all aspects of university preparation.
And with our dedicated Welfare team on-hand to help you navigate student life in Norwich, you'll feel fully supported from the day you arrive.
A level program and pathway options
The Newton Programme offers A levels in the core sciences, mathematics, psychology and economics in both a five-term and a six-term program.
Students on the six-term program have more time to settle into 'Newton life'. They will receive additional support and take part in more extracurricular enhancement activities during their first year of study, with an emphasis on study and lab skills. This could include:
presentations from university academics
real-world placements and internships
educational trips
academic competitions
research projects.
How I achieved 100% in my Mathematics AS level exam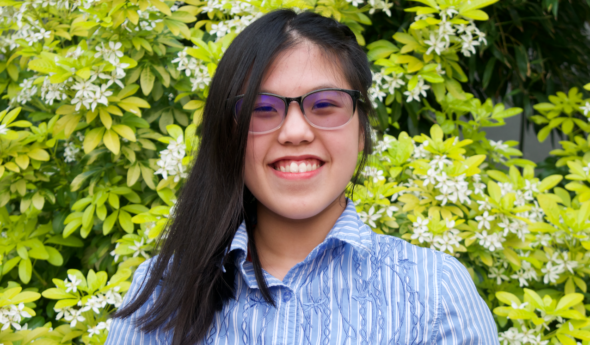 Bright from Thailand was one of 16,000 students who took the AS level exam - she achieved the highest grade in the world acheiving 100%. Read her story...
Read more >
Feedback on your progress
We value the trust your parents place in us to look after you. And our A level provision is structured to do just that. You'll be allocated a Personal Tutor who will be the main point of contact for you and your parents. Along with your teachers, they will be on-hand to:
discuss your academic progress
offer guidance on study skills and producing high-quality work
help with any welfare issues.
You and your parents will receive regular reports throughout your time here, which will cover your academic performance and work ethic.
Your learning and exam preparation
CAIE A levels encourage independent learning. You'll have regular homework and you will be expected to spend a similar amount of time each week in private study as you do in class.
You will take part in a study skills program to help you develop effective study techniques, including organizational skills, planning and time management. These skills can determine the difference between 'good' and 'excellent' grades.
Working through past papers will build your confidence as you develop your exam technique. Your teachers will help you understand the style of CAIE exam questions and you will have extensive practice in answering questions under timed conditions.
A level program structure
You will choose four subjects in your first year of study. Most students will continue with all four subjects for their final three terms. However, if both you and your Personal Tutor feel it is more appropriate, you may be allowed to continue with just three subjects for the final three terms.
There are three subject pathways. You'll select the pathway that corresponds to the undergraduate degree you plan to study at university.
Science and Medicine: Mathematics, Chemistry, Biology and Physics or Psychology.
Engineering and Mathematics: Mathematics, Further Mathematics, Physics and Chemistry or Economics.
Economics, Business and Actuarial Science: Mathematics, Economics, Further Mathematics and Physics.