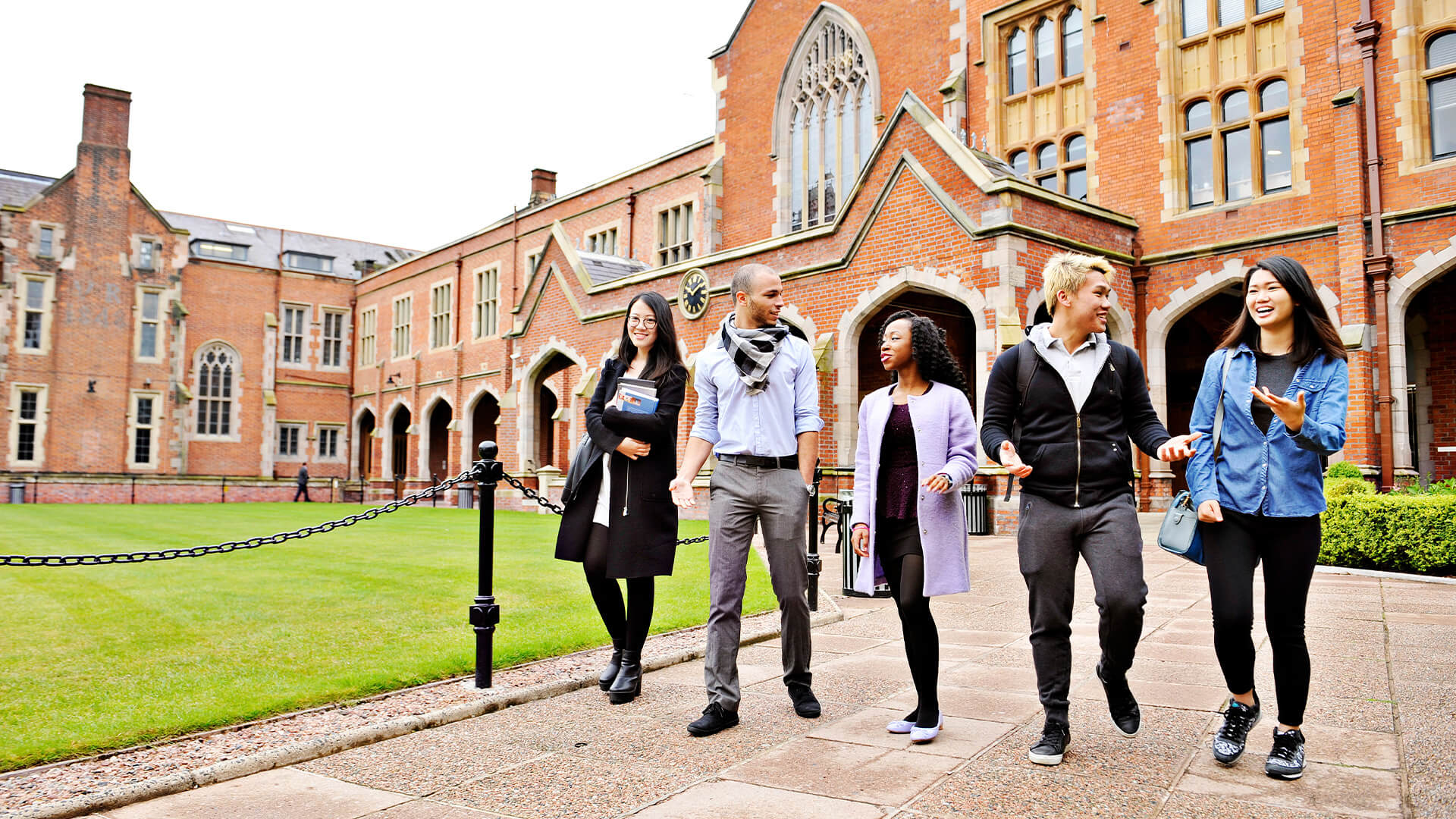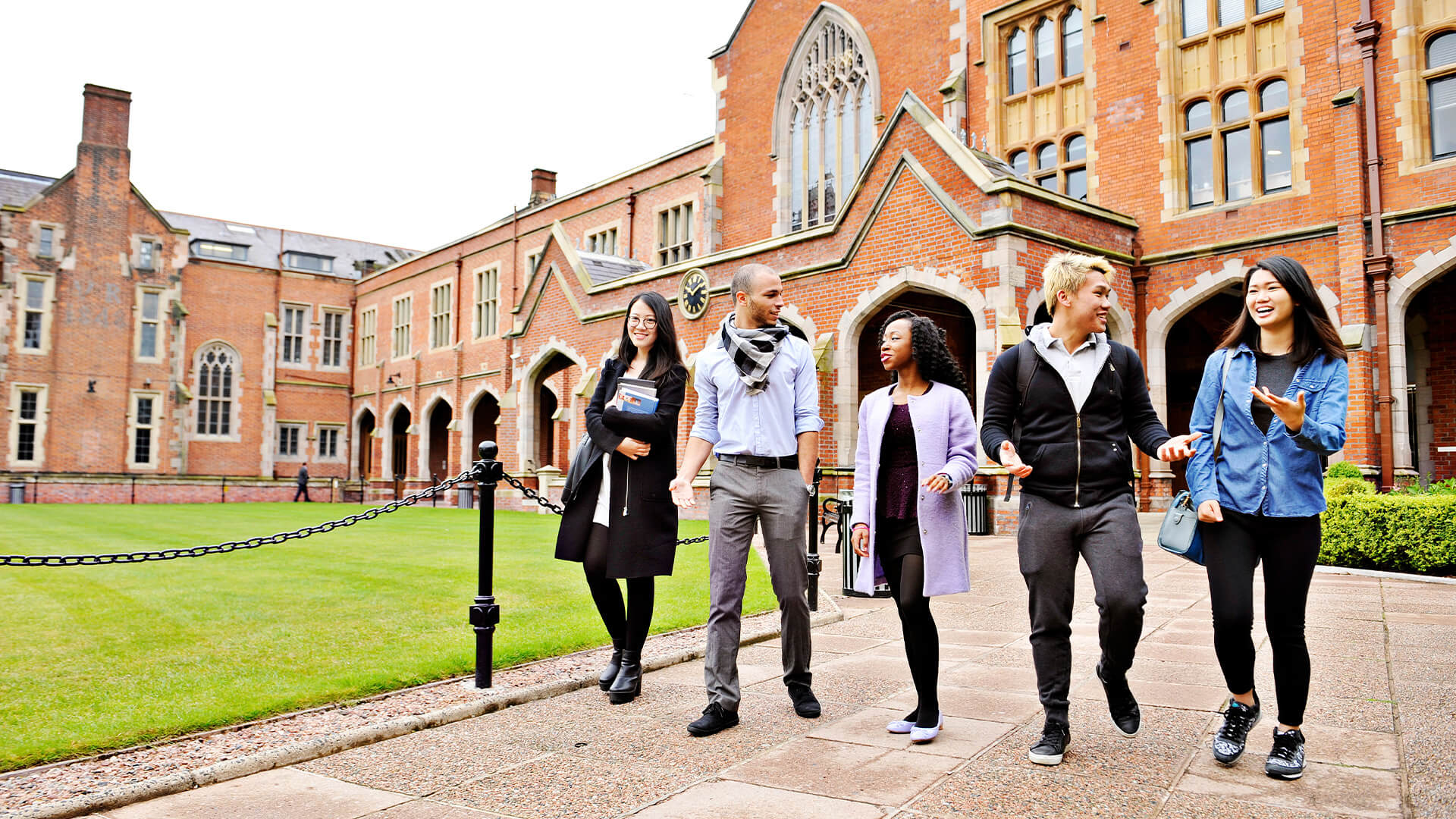 Life on the Queen's University Belfast campus
While it's important to study hard for your degree, it's also important to factor in some down time – and the INTO Queen's campus offers a perfect balance for both. You'll find everything you need here, including study areas, a bank, a post office and places to eat, drink and play sports – and Belfast city center is just a 15-20 minute walk away.
Are there sports facilities available on campus?
As an INTO Queen's student, you'll have the opportunity to continue playing your favourite sport, start getting active or try something new. World-class indoor and outdoor facilities at the university are ideal for recreational, competitive or high-performance athletes, and there are so many activities to choose from.
The Physical Education Center (PEC) includes a state-of-the-art fitness area that features:
over 140 pieces of CV and resistance equipment
a functional training and weights area
four studios
a 25m swimming and diving pool
two climbing walls
eight squash courts
two handball courts
outdoor 3G grass pitches.
You'll have a choice of over 50 sports clubs to join at Queen's, from popular sports such as rugby, football and tennis to unique activities like underwater hockey. Because of Belfast's location on the coast, you also have the option to join boat clubs and rowing clubs. And, when you're feeling really adventurous, you can head up into the Mourne Mountains for some mountaineering.
Belfast and the surrounding area provide a variety of landscapes to explore, which – combined with the university's excellent facilities – means you're sure to find something you love.
Where can I practice my faith on campus?
There are four chaplaincy centers on campus, each with a full-time chaplain who you can go to talk to for advice or support. The chaplains can also come to meet you in your accommodation, if you'd prefer.
You can visit the chaplaincy centers to pray or study, and they also host social events and activities to help you meet new friends.
A few minutes' walk from the university, you'll find a mosque in the Islamic Center in Wellington Park. Belfast also has a Hindu Temple, which is located in the Indian Community Center.
Where can I find my favourite food on campus?
When moving to a different country, we know it's important to be able to still have the foods you love from home.
Missing your family's authentic cooking? Don't worry – if you can't find the food you love on campus, the INTO team will help you find it locally. When you want to stock up on groceries and food shopping, there are Asian and halal supermarkets within walking distance of the INTO Center.
Where can I buy food on campus?
The Speakeasy
A kitchen in the Students' Union building serving drinks and meals throughout the day and evening. Fill up on pub classics like burger and chips or opt for a lighter soup, sandwich or salad. With TVs, snooker and pool tables and darts on offer, it's a great place to socialize with friends.
The Kitchen
A café on the ground floor of the Students' Union building, equipped with plenty of microwaves so you can bring and prepare your breakfast, lunch, dinner or snacks!
Relish
The largest restaurant on campus, serving noodle dishes, curry and pizza.
Vegetarian? No problem, you'll find veggie options available in all the catering outlets on campus.
Where can I get a coffee?
When you're looking for somewhere to relax with a coffee, you'll have plenty of choice at Queen's.
Hope Café
Located in the McClay Library, the Hope Café provides a welcome respite from studying, serving delicious breakfasts, lunch dishes and snacks in a light and airy space. You'll love the mouth-watering specials, and their freshly-prepared sandwiches and salads are available to take away for lunch on-the-go.
Clements
With branches at Queen's Sport PEC, the Medical Biology Center and the Students' Union, Clements are – as they say themselves – 'religious about coffee'. Specializing in sourcing only the finest coffee, Clements aims for full traceability to origin, farm and farmer wherever possible.
Café Carberry
You'll find Café Carberry at the INTO Study Center, so it's perfect for grabbing a drink or snack between lessons. Their menu features a range of fairtrade tea and coffee, along with breakfast and lunch dishes including toasties, soups and sandwiches.