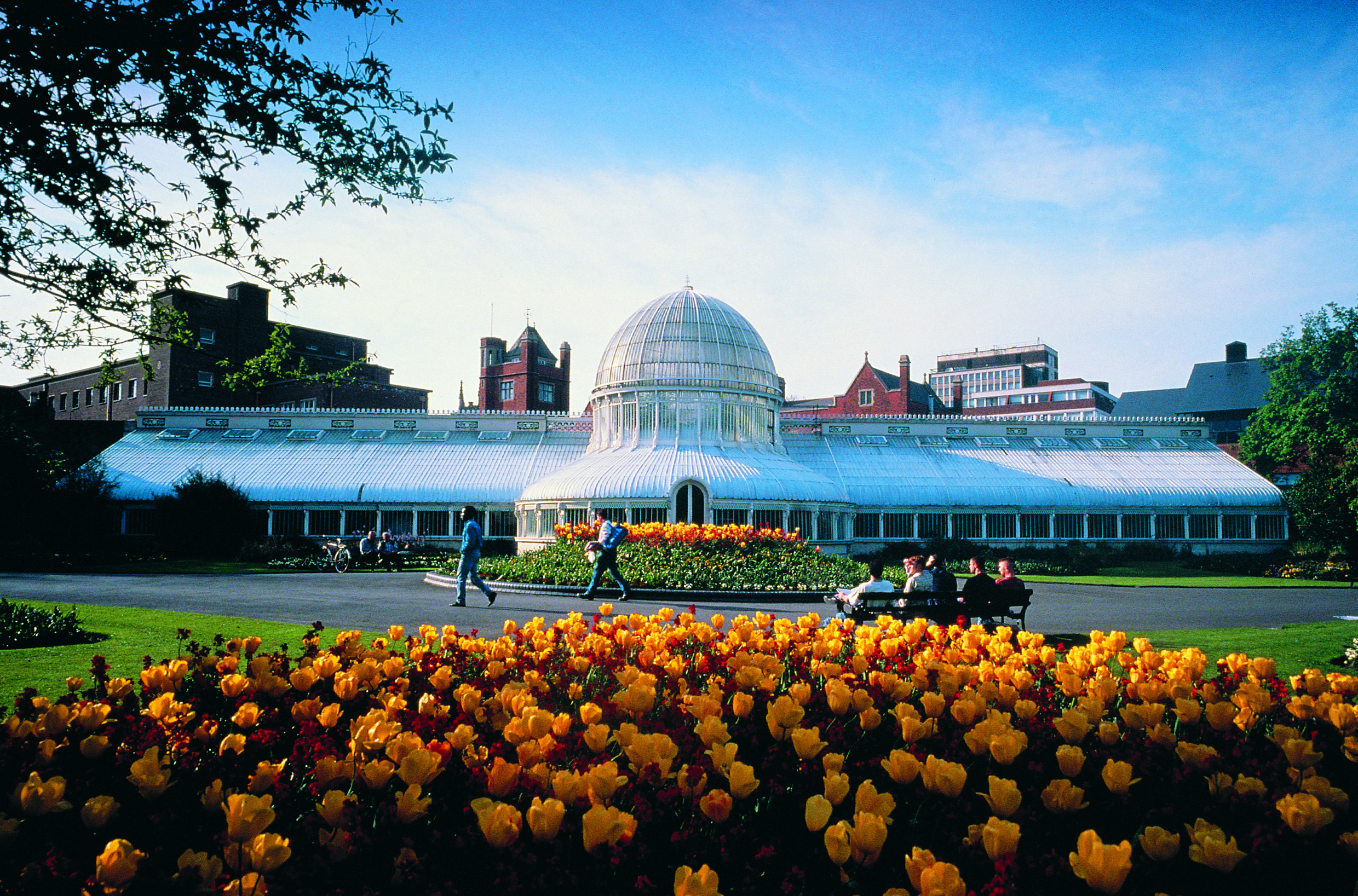 Belfast is Northern Ireland's capital city – a buzzing hub of events and culture, with the warmth and friendly vibe of a much smaller community.
You'll find snippets of history across Belfast, with castles, monasteries and incredible architecture all packed into an affordable city that's easy and safe to explore. It's surrounded by natural beauty too, including Northern Ireland's dramatic coastline with beautiful beaches to discover.
What are the career opportunities in Belfast?
Hundreds of international students travel to Belfast to study every year, and many of them choose to stay here to build a career. Belfast is home to global companies in a range of industries, offering excellent opportunities for employment after you graduate. Some of these include:
Bombardier Inc., an international aviation and rail transport engineering company
Almac, world leaders in pharmaceutical drug development
PricewaterhouseCoopers, one of the 'Big Four' accounting firms in the world
Citigroup Inc., experts in global investment banking and financial services
What makes Belfast unique?
A coastal city filled with stunning architecture and surrounded by natural beauty.
The lowest cost of living for students in the UK (Which? University 2018) – so your money goes further.
One of only three capital cities in the UK, with a buzzing cultural and social scene.
Belfast and the Causeway Coast was named the number 1 region in the world to visit in 2018 (Lonely Planet, 2017)
The award-winning Queen's University Belfast is just a 15 minute walk from the city centre.
What is there to do in Belfast?
Rich in history and culture, Belfast is home to world-class attractions. From fascinating museums to breath-taking castles and stunning architecture, there's something for everyone in this exciting city. You can discover:
the Titanic Belfast museum, where you can learn about the famous 'unsinkable' ship
the Ulster Museum of Irish history, where you'll discover the heritage of your new home
the beautiful Botanic Gardens, which is perfect for relaxing or studying outdoors
Belfast Castle and its historic grounds
SS Nomadic, Titanic's fully-restored sister ship
Belfast City Hall, a building in the city centre with stunning ornate architecture
Crumlin Road Gaol, Northern Ireland's only-remaining Victorian era jail
Have you heard of the TV show 'Game of Thrones'? Some of the show's key filming locations are in Northern Ireland. You can take a tour to visit Dragonstone, The King's Road, Winterfell and the Wall.
What is the food like in Belfast?
Few things are more comforting than your favourite meal from home. And, because Belfast has such a vibrant international community, you'll find tasty and authentic global cuisine across the city. Just a few minutes' walk from campus, there's Botanic Avenue. On this street you can find cafes and restaurants serving foods from around the world. You could try:
Boojum, for tasty Mexican burritos
Botanic Spice, for rich Indian dishes
Sakura, for fresh Japanese cuisine
Maggie May's, for a true taste of Northern Ireland
Belfast offers a choice of cafes, pubs, coffee shops and restaurants, no matter what your budget is. And being on the coast, it's the perfect place to try the British classic fish and chips! Whatever you love to eat, there's something for you in Belfast.
Are there lots of places to shop in Belfast?
Whether you're looking for designer goods, high street brands or unique souvenirs, you'll find plenty of choice in Belfast.
The main shopping areas include Victoria Square mall, CastleCourt shopping centre and The Kennedy Centre mall. And there's the Dock Market – an artisan crafts market that takes place in the Titanic Quarter every Saturday.
Don't miss the St George's market, held every week in the city centre. You can snack on street food, listen to live music and stock up on fresh vegetables, meat and fish as well as local specialities like soda bread.
How much does it cost to live in Belfast?
Your money goes further in Belfast, as – as well as being a vibrant capital city and home to one of the world's top-ranked universities – it also has the lowest student cost of living in the UK (Which? University 2018).
An education in Belfast is an excellent investment in your future, especially as Queen's University offers generous scholarships for international students. You will save on fees and living costs – but still achieve a globally-recognised degree from one of the oldest universities in the UK.
What is the best way to travel in Belfast?
Belfast is a relatively small city so you'll find it easy to get around on foot. Queen's University Belfast is an easy 15-20 minute walk from the Centre. There's a good network of buses and trains for travel in and around the city.
The Metro operates around Belfast city centre and offers discounted fares for students. Translink runs a regular shuttle service to and from Belfast International Airport. Plus, it's easy to explore the rest of the UK and beyond, with London, Manchester, Glasgow and Liverpool about an hour's flight away.