SLU: Change the world. Start here.
International students choose to pursue their US degrees at SLU because of its challenging, career-minded approach to education. We have 13 undergraduate and graduate programs that rank in the top 50 in the US, according to U.S. News & World Report 2021. These include programs in business, engineering, law and the humanities. Get support throughout your degree program at INTO SLU, giving you a safe study abroad experience with other international students at a leading US university. Our welcoming, diverse community will help you feel comfortable here in the US. We rank the No. 2 Most Engaged School for Community Service by Princeton Review 2021.
Located in the center of St. Louis, you'll find academic and professional opportunities just around the corner from your dorm room. Attend class on campus, then head to your internship or research study. St. Louis ranks among the top 7 US innovation districts (Brookings Institute 2019) with business, finance, health care, aerospace, technology and bioscience industries. There are 14 Fortune 500 companies and over 1000 companies headquartered in the local area.
Your INTO Center
SLU is an institution that nurtures students' values like
Achieving academic excellence
Groundbreaking research
A strong sense of community service.
Life in Saint Louis
St. Louis, also known as the Gateway City, is rich in American history. Its nickname comes from the iconic Gateway Arch, standing 192 meters above the Mississippi River. Other attractions in the city include
Forest Park - larger than New York City's Central Park
The St. Louis Zoo - free and located in Forest Park
The St. Louis Art Museum - free and located in Forest Park
The St. Louis Science Center - free and located in Forest Park
City Museum - a cultural landmark of industrial, repurposed materials to make a fantastic urban playground for all ages
Sun, city or scenery: find your perfect study destination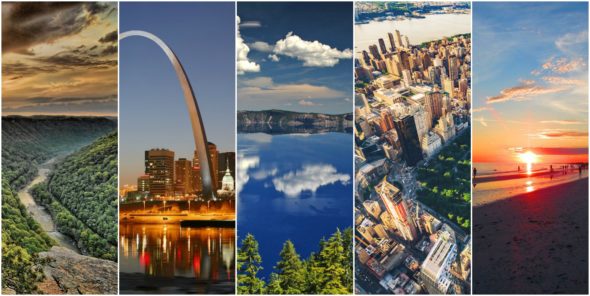 Locations in the USA are as diverse as the people who live here. Whether you love nature, sunshine or the bright city lights, the US has it all.
Read more >
Dedicated support while you study
INTO SLU Student Services creates an empowering experience for you that promotes learning, engagement and success. We will help you transition to university life in the US. We assist with
Housing coordination
Student wellness
Airport transfers
Planning trips and activities
Peer-to-peer assistance from student ambassadors
Your accommodation
SLU on-campus residence halls are the best place to call home. Our residential communities will
Support your academic pursuits
Challenge you to grow as an individual
Help develop relationships with peers