Suffolk University: Boston means business
Earn your degree in Boston, MA, where elite higher education and leading corporations are at the top of their game. Our degree programs emphasize immersive learning experiences. With our custom-designed degree programs, your education goes beyond the classroom and into exciting careers.
Boston Means Business
Suffolk University offers immersive consulting programs for future executives and professionals.
Besides studying nearby Boston's financial district, you'll have your choice of STEM-designated business programs including finance, marketing, big data and more.
Boston is ranked the #1 Best Student City in the US by QS World Rankings 2022
Massachusetts is ranked the #1 State with the Best Business Environment in the US by U.S. News & World Report 2023
Why study at Suffolk University?
At Suffolk University, your campus lives throughout Downtown Boston.
You can find internships with major US and global organizations right around the corner from your classes.
Find a global network in your neighborhood: Between expert faculty and 20% of the student population made up of international students like you, you can start building global contacts from day one.
Your INTO Center
Suffolk University is an ideal place for your higher education journey. The school is ranked among the top universities for international students and is located in the heart of Boston.
Life in Boston
America's original college town
A bustling, vibrant city, Boston has long been dubbed America's Original College Town, known for its international, historic and innovative roots. You'll feel the magnetic mix of people and opportunity as you live and learn on the urban campus of Suffolk University. Nestled in the heart of the city, you are steps away from not only your academic pursuits, but your professional aspirations as well. The visit you take to the museum on your way home from class could be a meaningful networking connection. A handshake in the coffeeshop on your way to meet friends could lead to your internship. With museums, parks and restaurants lining the cobblestone streets, you can find your way around Boston by foot and easily accessible public transportation. Join the thousands of international students who have chosen to make Boston their home while studying abroad in the US.
5 reasons why you should choose INTO Suffolk University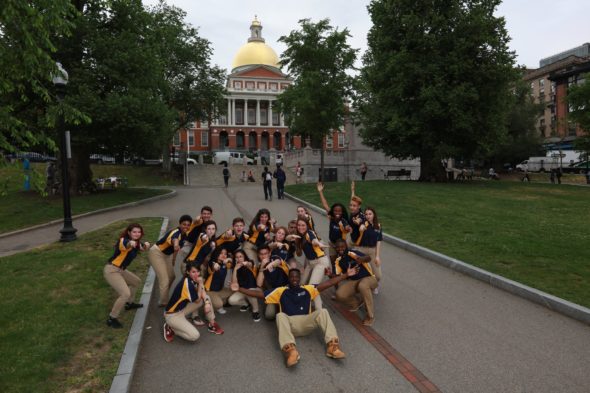 For over a century, Suffolk has been offering students an exceptional education in a bustling East Coast metropolitan city. As a top 200 national university, Suffolk's reputation precedes itself. Read...
Read more >
Dedicated support while you study
At Suffolk, our dedicated center and staff members are ready to assist you with any questions you may have. As an INTO student, you'll also have access to a wealth of resources, state-of-the-art technology classrooms and educational services.
Your accommodation
Suffolk offers several options for accommodation. If you want to live on campus in downtown Boston, our residence halls are a great choice—and close to classes. Our campus is surrounded by diverse cuisine, historical landmarks, live music, museums and unique outdoor spaces. Start exploring and you'll quickly find that Suffolk's history, culture and energy are inseparable from Boston's.