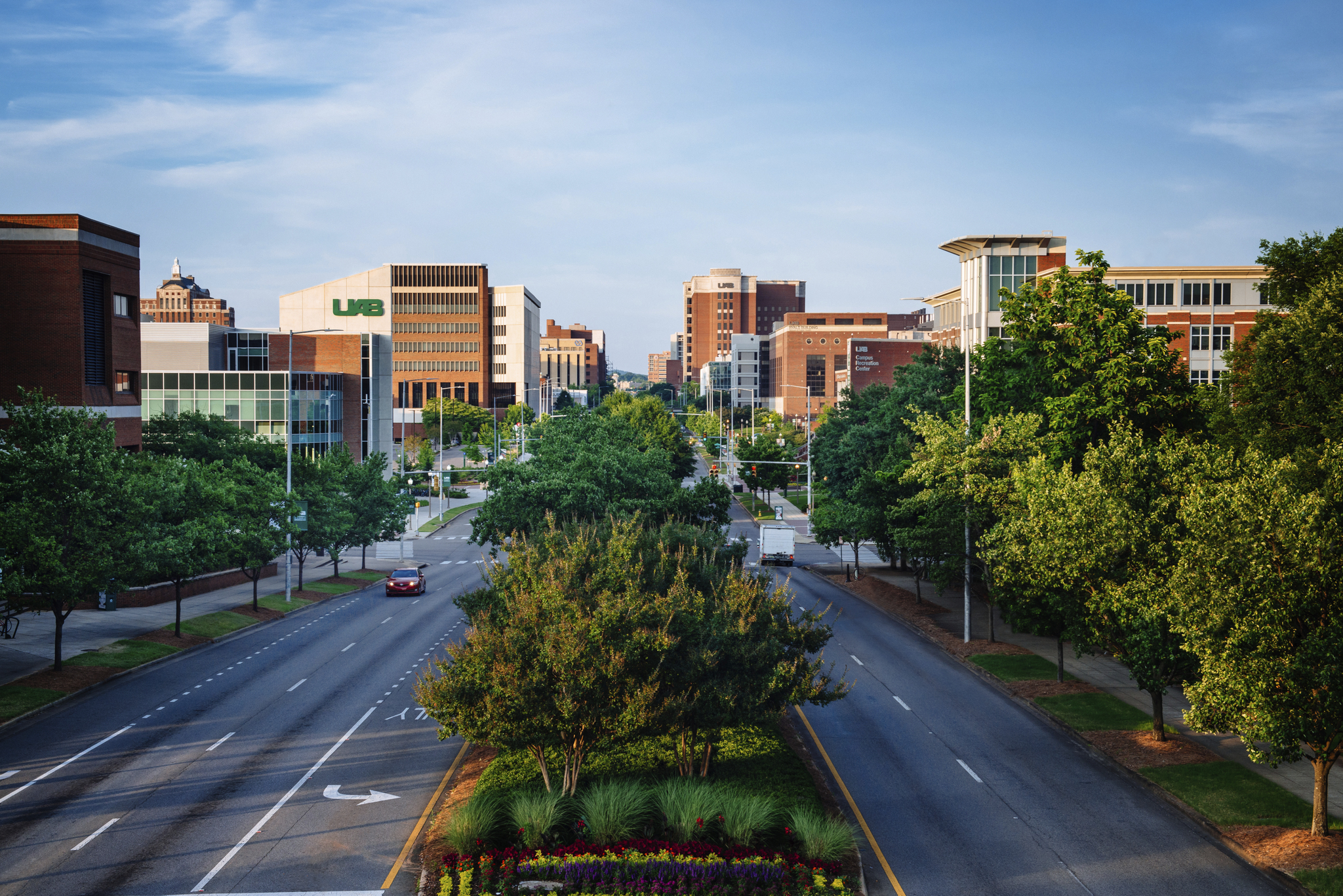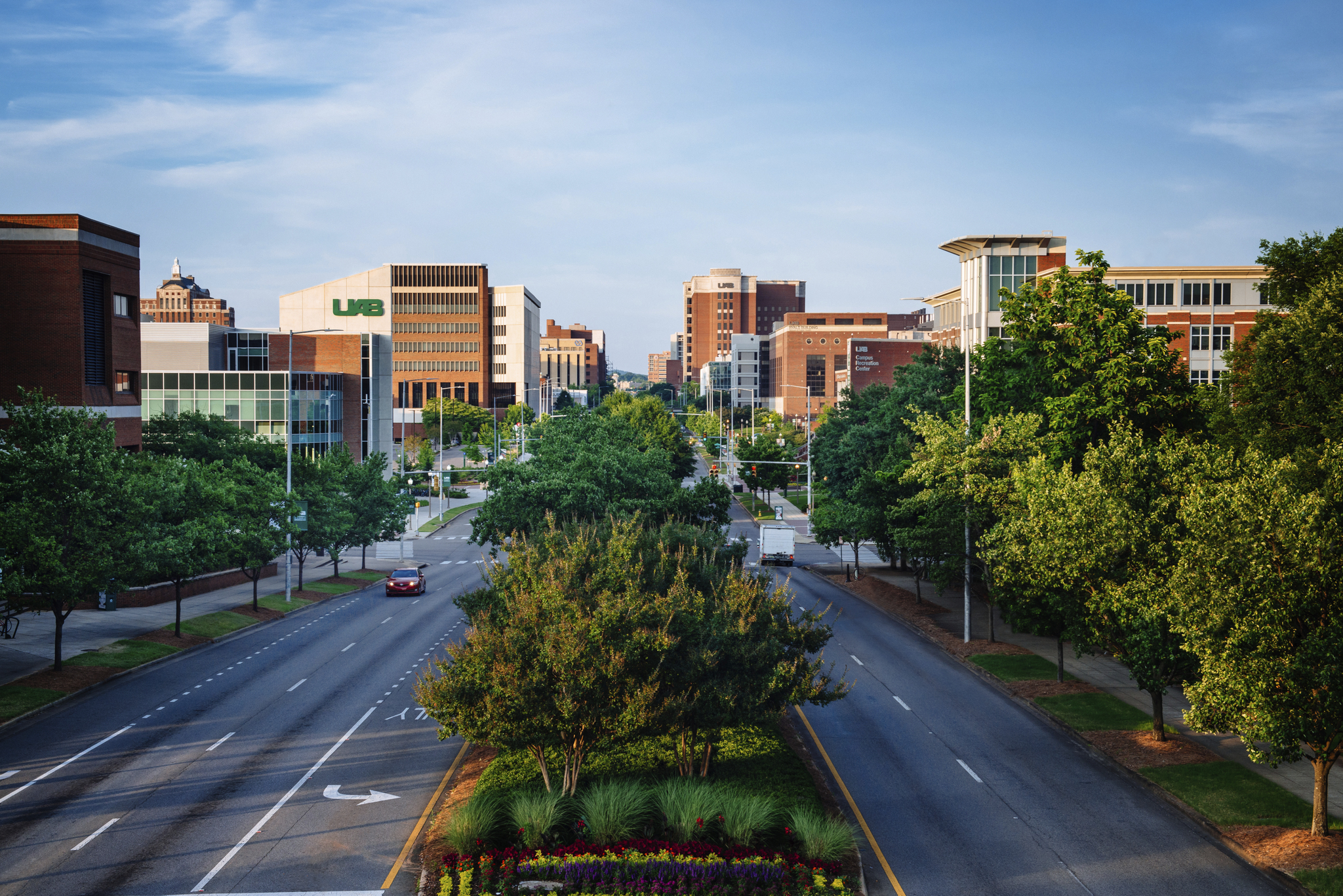 UAB has an exciting, dynamic campus life where you can impact others in community engagement projects, join a student organization, or explore the unique Southern city of Birmingham with friends.
We have events going on year-round. Campus Green, an open space in the middle of campus, is busy with students studying and hanging out with friends. Our INTO UAB Center lobby is perfect for meeting other international students. If you need answers to any questions, ask an INTO staff member at the front desk.
See below for more information about campus.
Student life
We want you to have an amazing experience here at UAB. Here are some ways you can get involved with the campus and local community:
Participate in INTO UAB student activities. Previous events have included a visit to the Birmingham Civil Rights Institute, a pumpkin-carving party during Halloween and an ice-skating trip, as well as Lunar New Year, Dia de los Muertos, Sankranti and Holi celebrations.
Student Multicultural and Diversity Programs offer safe spaces for students of color and LGBTQ students. They run the International Mentors program to provide incoming students like you with valuable information about life at UAB and in the US.
Check the UAB Student Involvement page by clicking here for upcoming events and campus-wide activities.
We have over 380 student organizations. Learn more by clicking here.
Participate in Community Partners, a program where students are introduced to a local American family for friendship and cultural exchange.
Attend UAB athletic events, all of which are free to students.
Take part in the Culture Connections program, a free language and cultural exchange program for UAB international students and scholars to meet with American English speakers for activities, language practice and friendship.
Athletics
UAB has 18 NCAA Division I sports teams. Cheer on your team at a game and show your Blazer spirit!
If you are interested in playing a sport, take a look at our club and intramural options described below:
Club sports are registered student organizations that compete with teams at other universities and regional and national tournaments.
There are over 20 club sports at UAB, including soccer, cricket, rugby and tennis.
Intramural sports are a less competitive option, where you can compete against other UAB students to make friends and new memories. Intramural options include basketball and indoor soccer.
Religion and faith-based organizations
At UAB, we have student organizations for religions of all types. Some faith-based organizations include:
Briarwood International Outreach (BIO), a Christian organization that helps meet international students' spiritual, relational, and practical needs.
Muslim Students' Association, for students practicing Islam.
Catholic Blazers, for students practicing Catholicism.
UAB Hindu YUVA, for students practicing Hinduism.
Dining options
When you eat on campus, you won't need to carry cash. Students access their meal plan through a ONE Card, accepted at our 15+ on-campus dining locations! See our dining options below:
The Commons on the Green: A buffet-style cafeteria that makes your everyday favorites and has exciting daily specials (Produce at Commons on the Green is locally sourced, and all meat and seafood are ethically and responsibly sourced. It also has a Simple Servings station for food without eggs, gluten, milk, peanuts, shellfish, soy, tree nuts and wheat.)
Starbucks: Two locations, both open early and late
The C Store: A convenience store with snacks and any essentials you might need
Panera Bread: A bakery with sandwiches and soups
The Den by Denny's: A diner serving breakfast, burritos, sandwiches and salads
Moe's Southwest Grill: Fast Mexican food with a western US flair
Einstein Brother's Bagels: Fresh bagels made daily for breakfast and lunch
Mein Bowl: A lunch spot featuring rice and noodle bowls with fresh veggies
Health and safety services
Your safety and health are our top priority during your study abroad experience at UAB. See our list of health services and security services below.
Security Services and Precautions
Buildings monitored by electronic access control systems 24 hours per day
Residence halls staffed 24/7 and guest check-in required before entry
Dedicated on-campus police force that regularly patrols all areas of campus
490+ Help Phones across UAB campus, directly connecting with UAB Police
Rave Guardian app, directly connecting with UAB Police and emergency services
B-ALERT, the university's emergency notification system, communicating emergency-related information through voice calls, SMS and email
Health Services
All students are required to have health insurance while studying with INTO UAB.
You are automatically enrolled in the Student Health and Wellness program when you arrive (as a part of your tuition and fees) at UAB. You will have access to an on-campus office for routine and acute doctor's visits, immunization requirements, and general health needs.
The Student Health Services Center will meet all of your primary health care needs, including appointments with healthcare providers, routine diagnostic lab testing and X-ray services.
UAB Counseling Services has licensed professional counselors on staff to help students with mental health or lifestyle concerns free of charge.