Welcome to University of East Anglia
The University of East Anglia (UEA) offers you the potential to achieve your academic ambitions. This internationally-recognised university is ranked among the top 15 universities in the UK and the top 200 worldwide, providing outstanding teaching and top-quality research. Choose UEA and join more than 3,500 international students from over 100 countries as you embark on an incredible academic, social and cultural experience in the UK.
Why study at UEA?
UEA degrees are developed with employers, helping to ensure that you graduate with the skills that businesses are looking for. Through work experience and links with industry, you'll have the chance to try out different work environments as you build your network. With UEA, it isn't just about getting a degree – it's finding a career you will love.
TEF Gold for teaching quality (Teaching Excellence Framework 2017).
10th in the UK for quality of research (Research Excellence Framework 2014).
UEA is one of the UK's top 10 safest universities (Times Higher Education Student Experience Survey 2018).
UEA students' grades improve the most of any other UK university between arrival and graduation (Guardian University Guide 2019).
99% student satisfaction for university campus environment (INTO Annual Student Experience Survey 2018).
Apply
Explore the University
---
Your course options
Our pathway programmes help international students, like you, prepare for undergraduate or postgraduate degrees in the UK. Not only will we help you improve your English, but we'll also support you in adapting to life in a new country. You can take A-levels through the INTO Newton A-level Programme, or choose from the following courses:
View courses
---
---
Your INTO Centre
The INTO Centre is located on UEA's campus close to the library and Students' Union. It has all the facilities you need for a great experience, such as a lecture theatre, café, science labs, a courtyard for games and social events, and your accommodation.
Explore the INTO centre
---
Life In Norwich
The University of East Anglia is situated in the lively, vibrant and affordable city of Norwich in Norfolk, UK. Not far from coastal landscape and the open countryside of the Norfolk Broads, Norwich has been voted one of the best places to the live in the UK (The Sunday Times Best Places to Live 2019).
Norwich may be small, but there's a lot to do. You'll discover hundreds of pubs, cafés and restaurants, as well as cinemas and theatres. You can also make the most of living close to the water with sailing, windsurfing and kayaking. If you want the perfect balance between the buzz of a city and the calm of the countryside, Norwich is for you.
Explore the city
Finding a work–life balance while studying law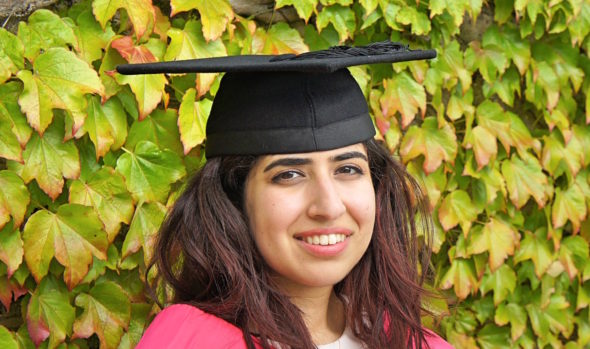 It can be difficult to get a work-life balance at university but Umayma, a University of East Anglia Law graduate, has some tips to help you get it right!
Read More >
---
Dedicated support while you study
The Courtyard Office is where you should go if you need anything at all. Our friendly and enthusiastic Student Services team has an open-door policy and is always there to support you, no matter your problem.
Our Social and Welfare Officers love to chat to students and really care about how you're doing. They'll help you renew your visa, book a trip, and even let you in your room if you forget your key!
How we'll support you
---
Your accommodation
Our modern, on-campus INTO accommodation means that you can become part of UEA's friendly and welcoming student community, meet new friends, become more independent and quickly settle into university life. The fantastic residences are modern, purpose-built and designed especially for students, close to all the facilities you'll need!
Explore your accommodation