University of Exeter: Russell Group education for the career-minded
Make your future your own with INTO University of Exeter. Study a pathway that leads to a Russell Group university in a safe, scenic and multicultural environment. Located in beautiful south west England, the University of Exeter delivers world-class education to high-performing students who are driven to succeed.
Why choose INTO University of Exeter?
Over 90% of students progressed to their chosen degree, (based on students who completed a program in 2022).
97% overall student satisfaction (INTO Annual Student Experience Survey 2022).
96% of students feel prepared for their university studies (INTO Annual Student Experience Survey 2022).
What are my course options at INTO Exeter?
Where will I study at the University?
The INTO Center is where your future begins, located in the heart of the picturesque Streatham Campus. Here, you can make friends, develop your English language skills and enjoy specialist support to prepare you for your degree at the University.
What's life like in Exeter for students?
Set in the beautiful Devon countryside, Exeter is recognized for being the best place to live in the UK (Arcadis 'Investing In Britain: Cities Built for the Future' report 2018) as well as one of the top 5 safest places to live in the UK (The Complete University Guide 'How safe is your City?' 2022).
It's a lively, vibrant city with a range of diverse independent businesses.
Close to sandy beaches, fossil cliffs and beautiful national parks, Exeter is a great base for adventurers.
Experience the city's history as you explore its cobbled streets and Roman ruins. Or check out Exeter's many restaurants, retail stores and thriving arts scene for endless entertainment.
Women in STEM: Deema's coding bootcamp for girls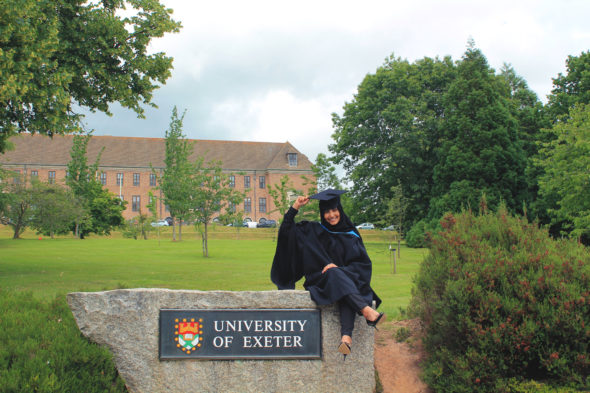 University of Exeter alumna, Deema, and her friend Nora are making waves in the Saudi Arabian STEM world with their new business CODING FOR GIRLS.
Read more >
How will INTO Exeter support me?
We're here to help you feel at home. INTO Exeter students say they're highly satisfied with the support they receive during their studies, with 95% student satisfaction for student services (INTO Annual Student Experience Survey 2022). You can expect:
help opening a bank account and registering with a doctor
transport from the airport (at an additional cost)
Welcome Week to help you make friends and get to know Exeter
24/7 on-site staff support, including an out-of-hours emergency phone number
additional support for students under 18.
Where will I live at the University of Exeter?
You will have a choice of living options at INTO University of Exeter, located on the University's Streatham Campus.
INTO accommodation – a private single bedroom with access to either shared or private kitchen facilities and shower facilities, depending on the type of accommodation you choose.
Homestay – a private bedroom in a local host's home in Exeter.
Private student accommodation – options in and around Exeter.