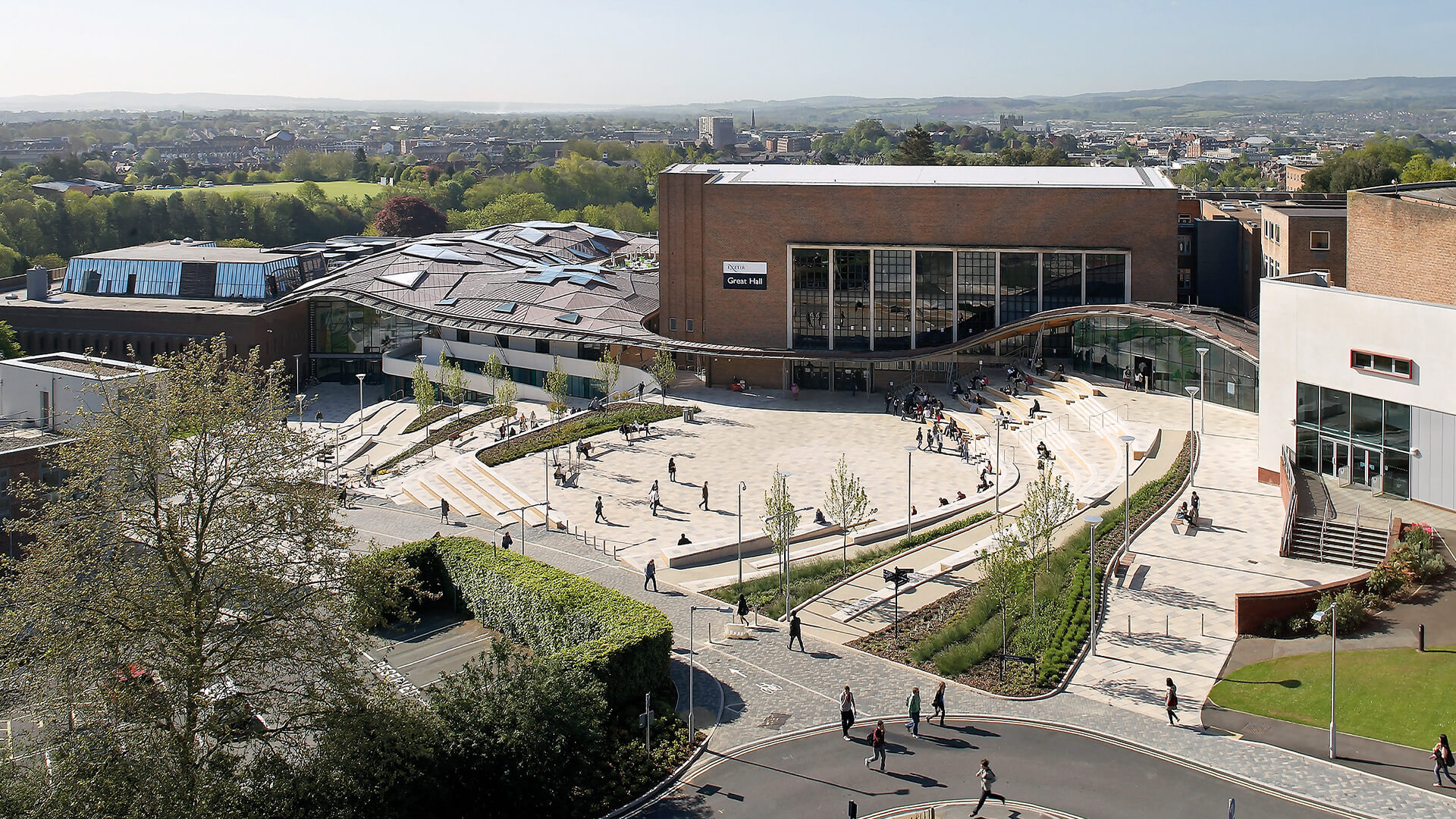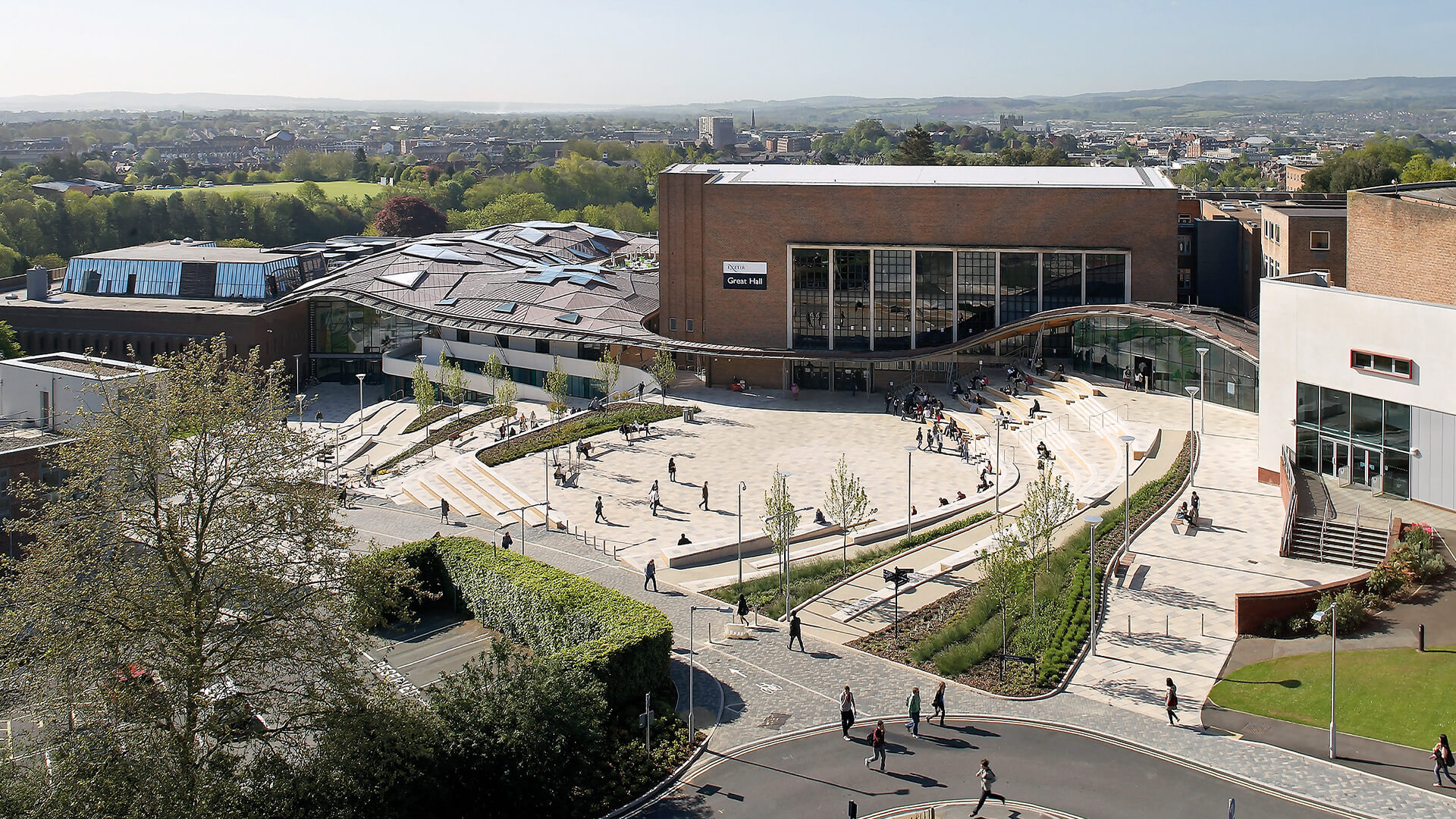 What can I expect from the University of Exeter campus?
You'll be based at the Streatham Campus during your INTO course. Surrounded by beautiful parkland and home to cutting-edge facilities, this inspirational campus is the ideal environment to live and study in.
It's also a registered botanical garden, home to plant collections such as the South American Azara shrub. Explore the lakes and woodland trails within this 300-acre green wonderland for the ideal break between studies.
Exeter's picturesque Streatham Campus, set in parkland, is one of the most beautiful in the UK. More than £350 million has been invested in the campuses and facilities over the last five years, including its iconic centerpiece The Forum. With the city center only a 10-minute bus ride away, Exeter offers the advantages of a campus-based university without missing out on city life.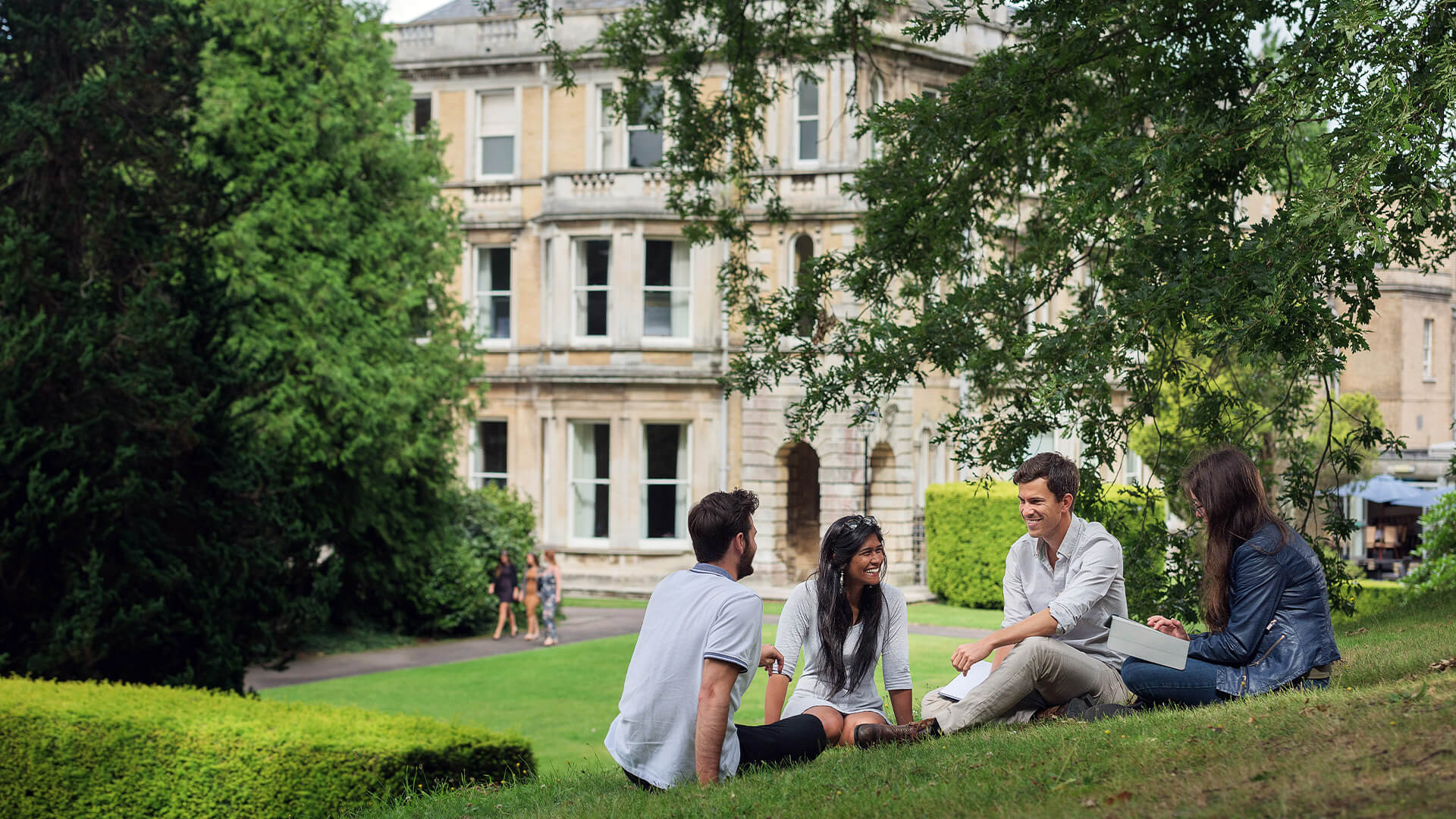 On the eastern side of Exeter city center, St Luke's Campus is more than 160 years old and home to the University of Exeter's Medical School, Department of Allied Health Professions, Sport and Health Sciences, and Academy of Nursing. Although it's smaller than the Streatham Campus, St Luke's has a vibrant atmosphere among its close-knit student community.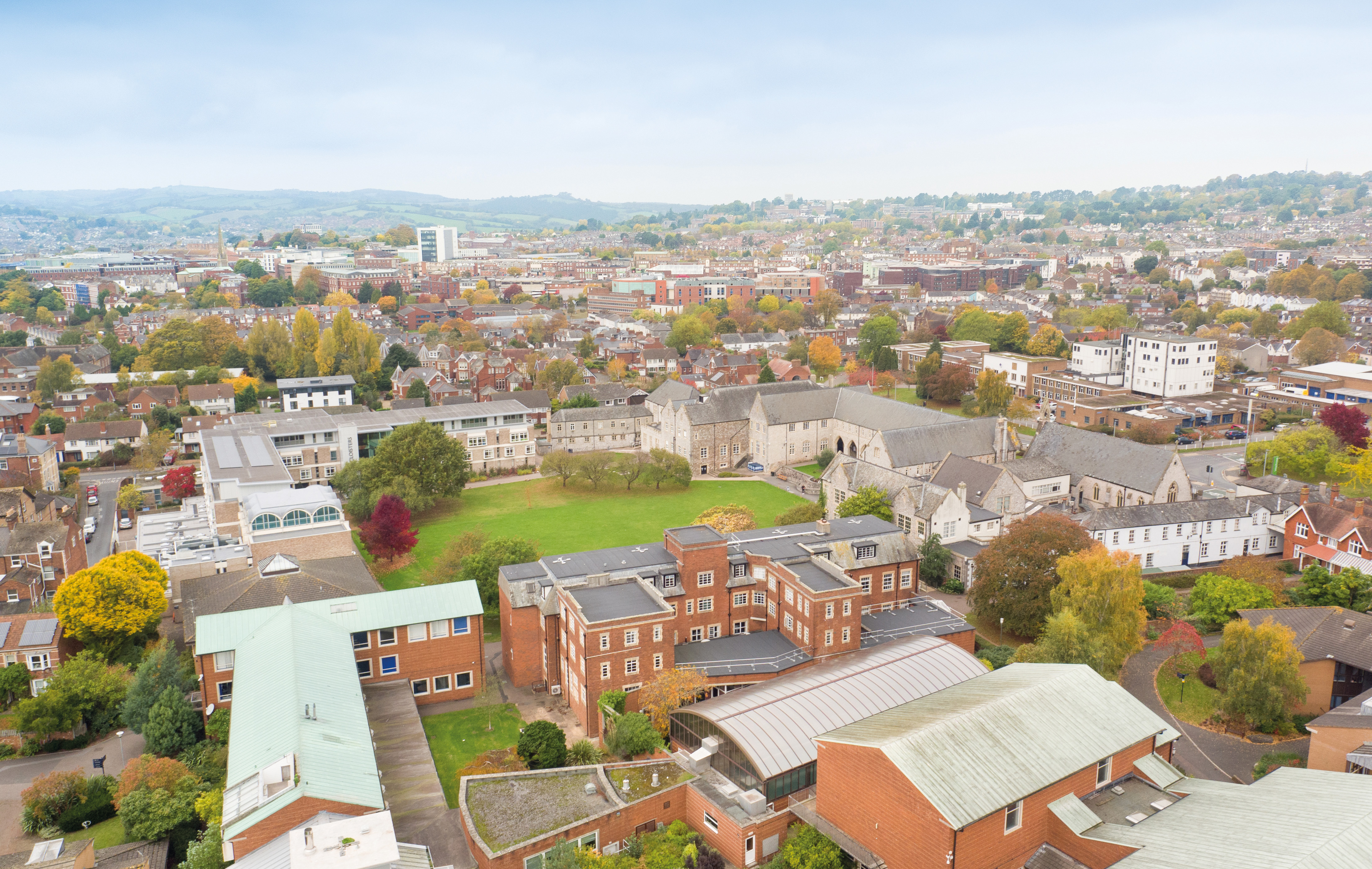 Based by the beautiful beaches of Cornwall, the Penryn Campus is known for its student satisfaction. With around 6,000 students, the campus is full of creativity, friendliness and energy. The University has been consistently developing the campus with a recent £12 million extension to the Science and Engineering Research Support Facility, a £30 million investment in the Environment and Sustainability Institute, and a new Renewable Energy Engineering Facility.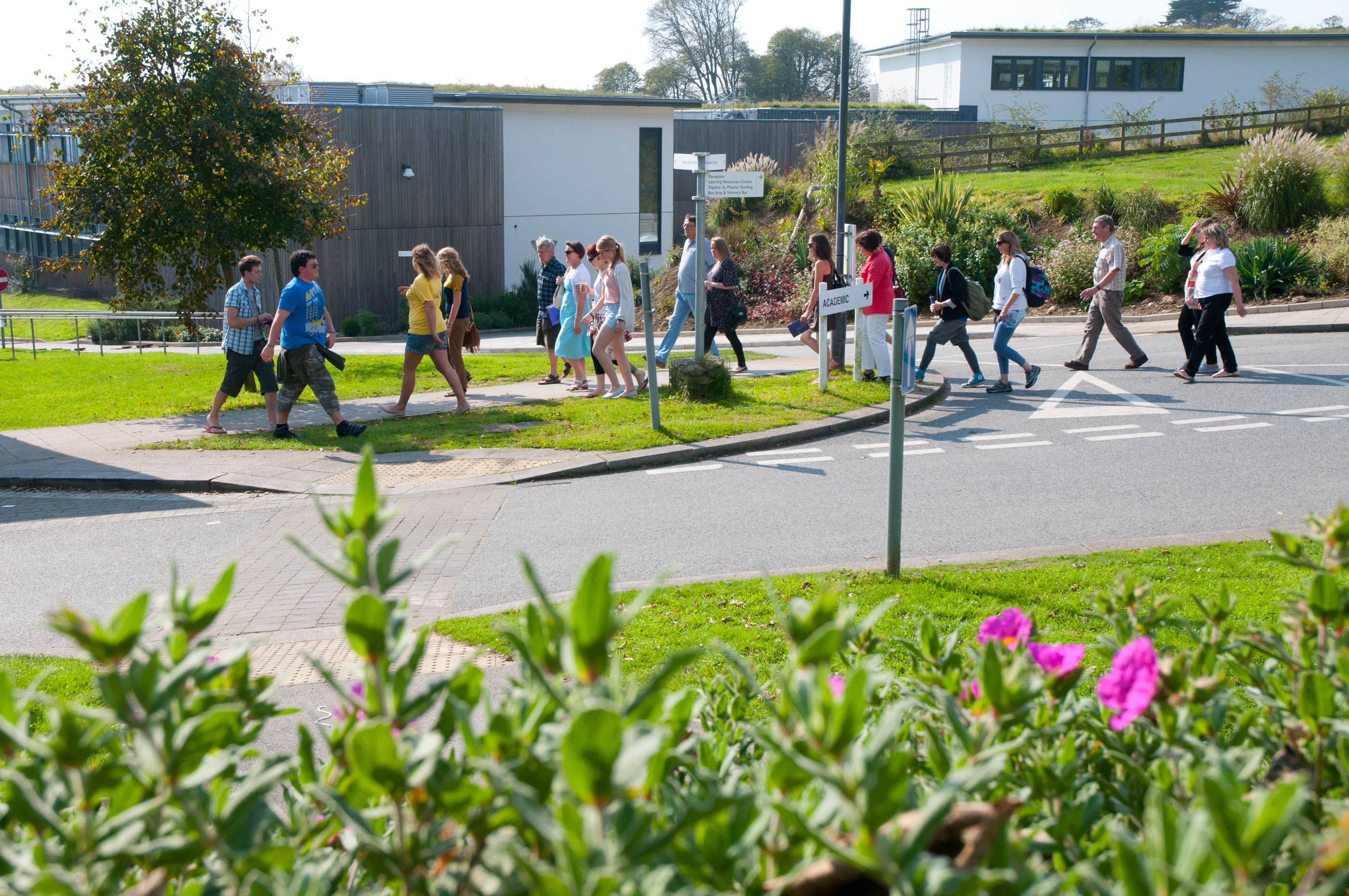 What will I find at the Students' Guild on campus?
As an INTO student at the University of Exeter, you'll automatically become a member of the Students' Guild. Enjoy great facilities run by students on campus, such as:
250+ societies – from anime, gaming and international societies to the Global Chums mentoring scheme
Food outlets – including Comida, Italiano Pizza, Pieminister, The Grove and the Guild Shop
Lemon Grove – student nights for Exeter students, live bands and events for clubs and societies
Ram Bar – the campus' local pub that hosts quiz nights, karaoke and shows live sport on six screens
Advice Service – offers help with any academic, accommodation, financial and personal issues
What sports facilities does Exeter have?
Ranked top 10 in the UK for Sports Science (The Times and The Sunday Times Good University Guide 2022), Exeter is known for sport. You'll find a wide range of facilities here, including:
fitness centre with 200 stations
four floodlit Astroturf pitches
four squash and racquetball courts
sports hall for badminton, volleyball, basketball and football
£2 million indoor cricket centre
£3 million tennis centre with 10 indoor courts
golf centre with pro-tour standard practice green
outdoor swimming pool at Streatham and indoor pool at St Luke's
There are more than 50 sports clubs to join, including archery, badminton, cricket, sailing, swimming and volleyball.
Is there a religious community on the University of Exeter campus?
Exeter's multi-faith chaplaincy offers a range of amenities for both personal and group worship and is open to anyone. The chaplaincy helps people discover and express a variety of beliefs, including:
Buddhism
Christianity
Hinduism
Islam
Judaism
The chaplaincy covers both the Streatham and St Luke's campuses, and is available to everyone day or night. If you find that your faith is not represented by the University, we'll help direct you to religious groups in the wider community.
What food will I find on the University of Exeter campus?
The University of Exeter offers a variety of venues for eating and drinking, providing you with the perfect place to catch up with friends or relax between lectures. Popular eateries include:
Comida – Mexican meals, including burritos and tortilla wraps
La Touche Café – changing international dishes, from Caribbean to Italian
Forum Kitchen – offers a range of ever-changing dishes made by various independent traders throughout the year
Pret-A-Manger – handmade, natural food prepared fresh every day in the shop's own kitchen.
Exeter city centre has a large variety of international restaurants to enjoy. Find out about your food options in Exeter here.