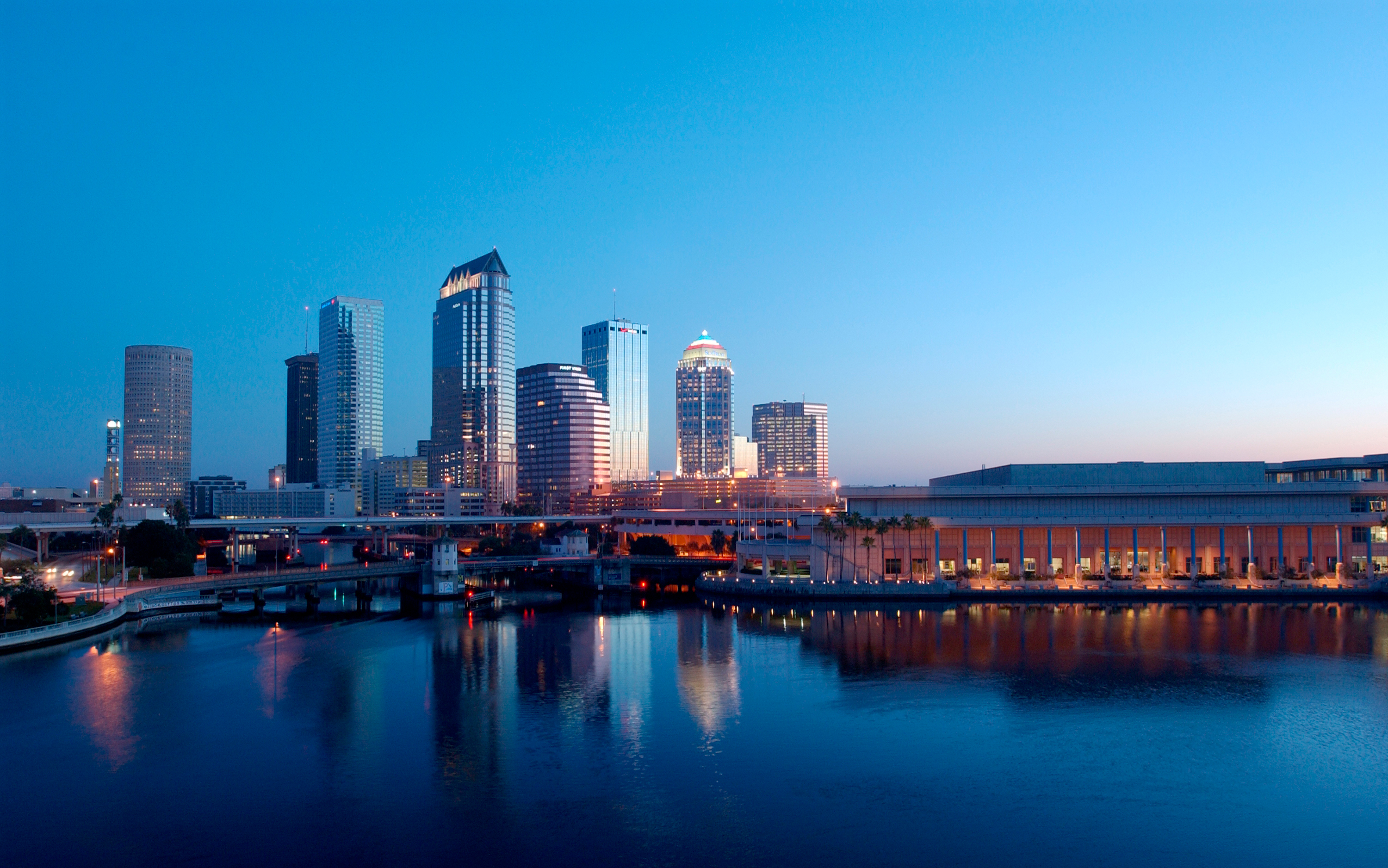 Living in Tampa and Florida
Located on Florida's spectacular west coast, Tampa is a metropolis that's home to more than 390,000 people. You'll enjoy the excitement of city life as well as the area's natural beauty. If you love beautiful weather, you'll feel perfectly at home with nearly 237 days of sun every year and some of the best beaches in the world.
The city is so much more than just a day at the beach. With a bustling nightlife and cultural scene, there's no shortage of things to do. Spend a Saturday on St. Pete Beach, TripAdvisor's 2021 No. 1 best beach in the US. Discover the arts at the Salvador Dali Museum, or ride a heart-pumping roller coaster at Busch Gardens theme park. For more exciting tips about living in Tampa, visit our City Guide.
Unique and vibrant Tampa
Why you'll love Tampa
Tampa has an average of 237 days of sunshine each year. It's no surprise Florida's nickname is the Sunshine State. Consistently noted for its beauty, industry and opportunities, it has earned the name of top travel destination and place to call home.
The area is home to multiple award-winning beaches, including St. Pete Beach. You can't get much better weather with an average, year-round temperature of 28°C. Florida has over 1,300 km of beaches and we have some of the best right here. Spend a day oceanside relaxing in the sun, splashing in the waters and hanging out with friends before exploring the electric downtown scene by night.
Entertainment is everywhere around campus. There are 10 theme parks within a 90-minute drive of us. Busch Gardens with thrilling roller coasters is a short walk from USF. Tampa is also home to Adventure Island, a huge outdoor water theme park, The Florida Aquarium, Manatee Viewing Center and Big Cat Rescue.
Take a one-hour drive over to Orlando with Disney World and Universal Studios to enter a world of fairy tales and superheroes. This world-class destination is also home to Seaworld Orlando and Disney's Animal Kingdom. You can have amazing, up-close encounters with endangered animals or have a magical day taking photos with characters and going on rides from your favorite movies.
By day, you'll find Tampa is filled with career opportunities both in the city and back on campus. Establish yourself in a research study led by world-class faculty or dive deeper into your industry with an internship. We are a growing city that is expanding its downtown and where businesses want to move to. Tampa ranks #8 among US cities with high-paying jobs and low cost of living (CNBC 2018).
Tampa sports
Sport lovers in Tampa gather around Raymond James Stadium every year for two important teams—USF's own beloved football team and National Football League team, the Buccaneers. Tampa's two other professional teams, the Rays (baseball) and the Lightning (hockey), are sure to score some major points with any fan during summer and winter. And don't forget—any season in Tampa is beach and water sports season. Grab a frisbee, paddle board or pair of running shoes and make your way down to the beach to work up a sweat.
A taste of Tampa
Tampa's dining scene has a myriad of restaurants. From the fresh seafood at waterfront bistros to the Spanish dishes from family-owned cafes, you'll never have to eat at the same place twice. But we bet you'll want to after you taste an original Cuban sandwich from Ybor City. Worried you'll miss the food from home? Don't be. With Tampa's multicultural population, there are plenty of markets that sell spices and food from other countries. Therefore, creating your favorite dishes from home is simple.
Many options to shop
Among the big plazas, outdoor malls and neighborhood boutiques, Tampa is a shopper's paradise. Not far from campus you'll find International Plaza and Bay Street, which is home to 200 specialty stores, four upscale department stores and 16 restaurants. Other popular shopping spots include The Shops at Wiregrass, an open-air mall that perfectly fits the Florida lifestyle.
Here are a few to explore:
International Plaza and Bay Street
Tampa Premium Outlet
Hyde Park Village
The Shops at Wiregrass
Festivals events and more
Tampa is ranked in to Top 20 most ethnically diverse Cities in The US by city size (WalletHub 2020). Throughout the year, the city is alive with fairs and festivals honoring cultures from all corners of the world as well as events unique to Tampa. For example, the Gasparilla Pirate Festival in January is a free event with more than 100 years of history. Spirituality and faith customs also are important to the Tampa community. It is easy to find places to worship and connect with others who share your values and interests.
Living costs in Tampa
You can live in Tampa inexpensively. Tampa is ranked No. 12 in Livability's 2019 Top 100 Best Places to Live.
Transportation in Tampa
While Tampa is a big city (population of more than 390,000) it's still relatively easy to get around. The Tampa International Airport is only about 20 minutes from campus, and you can take a taxi or rideshare to just about anywhere. Take the TECO streetcar and trolley around downtown or grab a water taxi for a unique transportation experience. There are also bicycles for rent around the city.
Beyond Tampa and into Florida
Florida is a great state to enjoy nature, diverse cultures, and amazing people. Go take a tour of the Everglades, one of America's most notable national parks where you can see panthers, manatees and sea turtles.
Drive down to Miami, only four hours from Tampa where you can stroll along historic Ocean Drive, home to Miami's eclectic nightlife. Take a speedboat sightseeing tour or go out on a day trip to Key West. Enjoy wandering culturally-rich Little Havana where you can enjoy amazing coffee and the world-famous Cuban sandwich.
What should I wear?
The weather in Tampa can vary. Summer months are bright and hot with highs around 32°C. Autumn tends to be warm with calm breezes, while winter is irregular with highs near 21°C. Spring brings rain; weather is mild with highs around 25°C. Dress is usually casual for USF students. Make sure you have enough clothes to keep you warm for the first month or so of classes, and you can buy anything else you need after you arrive.