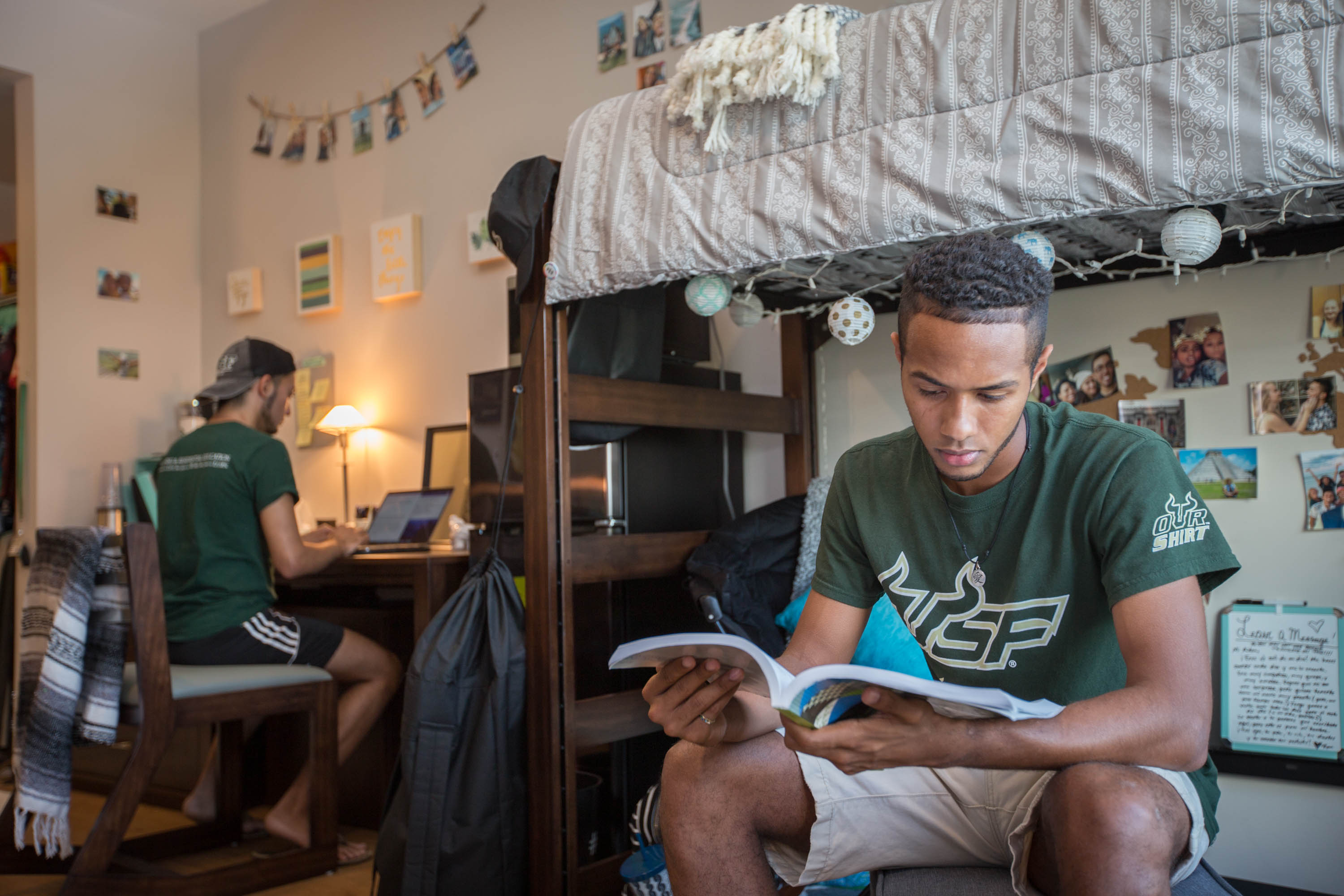 Accommodation at INTO University of South Florida
International Year One students at INTO USF are encouraged to live on campus and benefit from an Open Access meal plan. There are five styles of housing at USF to fit your lifestyle and budget: apartment, traditional double, traditional single, Village-suite or Village-traditional. Here, you will be living with both international and American students. You will have the opportunity to mix and socialize with students from around the US and the world. The Open Access meal plan includes unlimited access to USF's three dining halls, seven days per week, and $200 in Dining Dollars for use at on-campus restaurants and cafes. For students who plan to live off campus, the university has partnerships with a variety of apartment communities in the local area.
Student Residences at USF
All our housing options offer maximum comfort and safety. Move-in ready rooms include everything from furniture and new bedding to air conditioning, cable television and internet service.
Residence halls feature common areas for studying and socializing, kitchens on every floor, laundry facilities and a variety of other amenities. Trained Resident Assistants live on-site to help with any of your needs. On-call emergency maintenance is available 24 hours a day.
Next steps
Once you've decided on your preferred accommodation, you need to reserve your place. You can select your accommodation on the application form, and it will be submitted along with your program choices when you have completed the application process.
If you would like to stay in a residence hall and have not yet signed up for an on campus accommodation, please contact INTO Admissions at INTOAdmissions@usf.edu. If you wish to make changes to the accommodation you ordered, or have questions about living on campus, please contact INTOHousing at INTOHousing@usf.edu. If you have any other questions, please contact INTOHousing by phone at (813) 974-5239.