Accommodation at INTO Washington State University
If you are an incoming Year 1 student under the age of 20, you are required to live on campus. To get the most out of your on campus experience, WSU has created Living-Learning communities. These communities place students like you alongside other students who share common academic interests. There are free tutor-assisted study halls and you're in close proximity to your classroom buildings, recreation facilities and dining halls.
Student Residences at WSU
At INTO Washington State University, we provide several different housing options for students. If your program doesn't require you to live on campus, there's a wide variety of housing available in Pullman. WSU Tri-Cities has on-campus apartments. While WSU Vancouver does not offer on campus housing, there are many housing options near campus. Students will also receive support in locating housing options during your time at university. If you are progressing to another WSU campus, you won't need to secure housing until a few months before your move.
Living on campus gives students the opportunity to interact with other undergraduate students within conveniently located residence halls. Students can enjoy living-learning communities that come with plenty of exciting amenities such as recreation rooms, free WIFI, laundry facilities and nearby dining centers.
Back
About this room
Double rooms come with community bathrooms and are spread across campus.
Pricing for an Undergraduate Double Room is $7,160 per semester during the 2019-20 academic year.
Details
Closets
Loftable beds
Small chests of drawers
Desks
Shelves
Chairs
Floor plan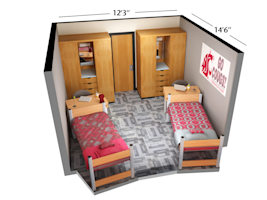 About this room
Single rooms in McEachern Hall were refurbished in 2009 with new furniture, carpet and other amenities. The single rooms share a bathroom with one other room.
Pricing for an Undergraduate Single Room is $7,470 per semester during the 2019-20 academic year.
Details
Closets (with dresser)
Loftable twin bed
Desk with hutch organizer
Mobile file pedestal
Bookcase
One desk chair
Floor plan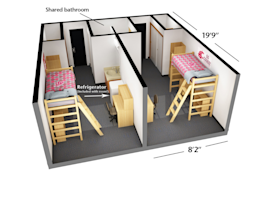 Next steps
Simply select your preferred accommodation option as part of the INTO application process.