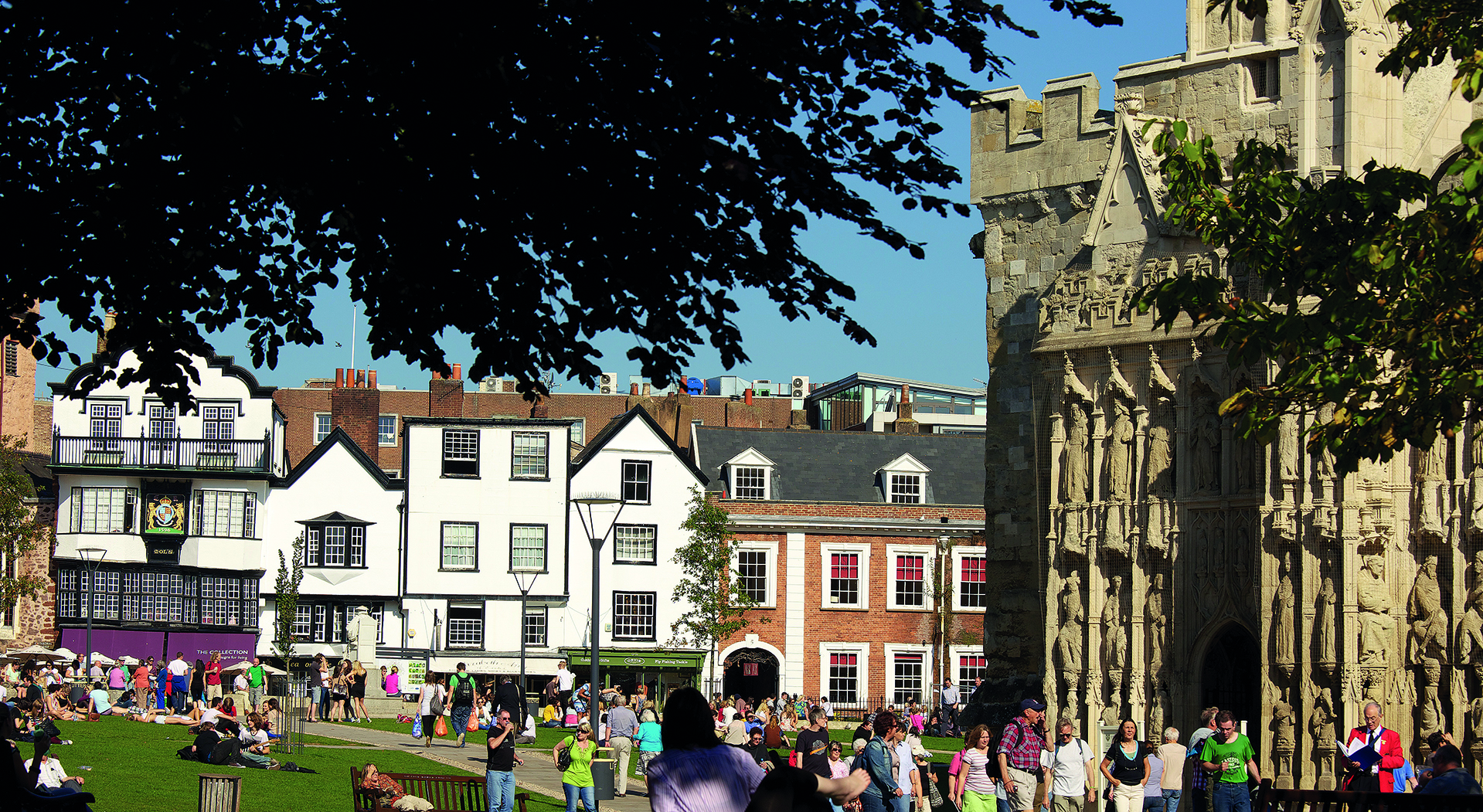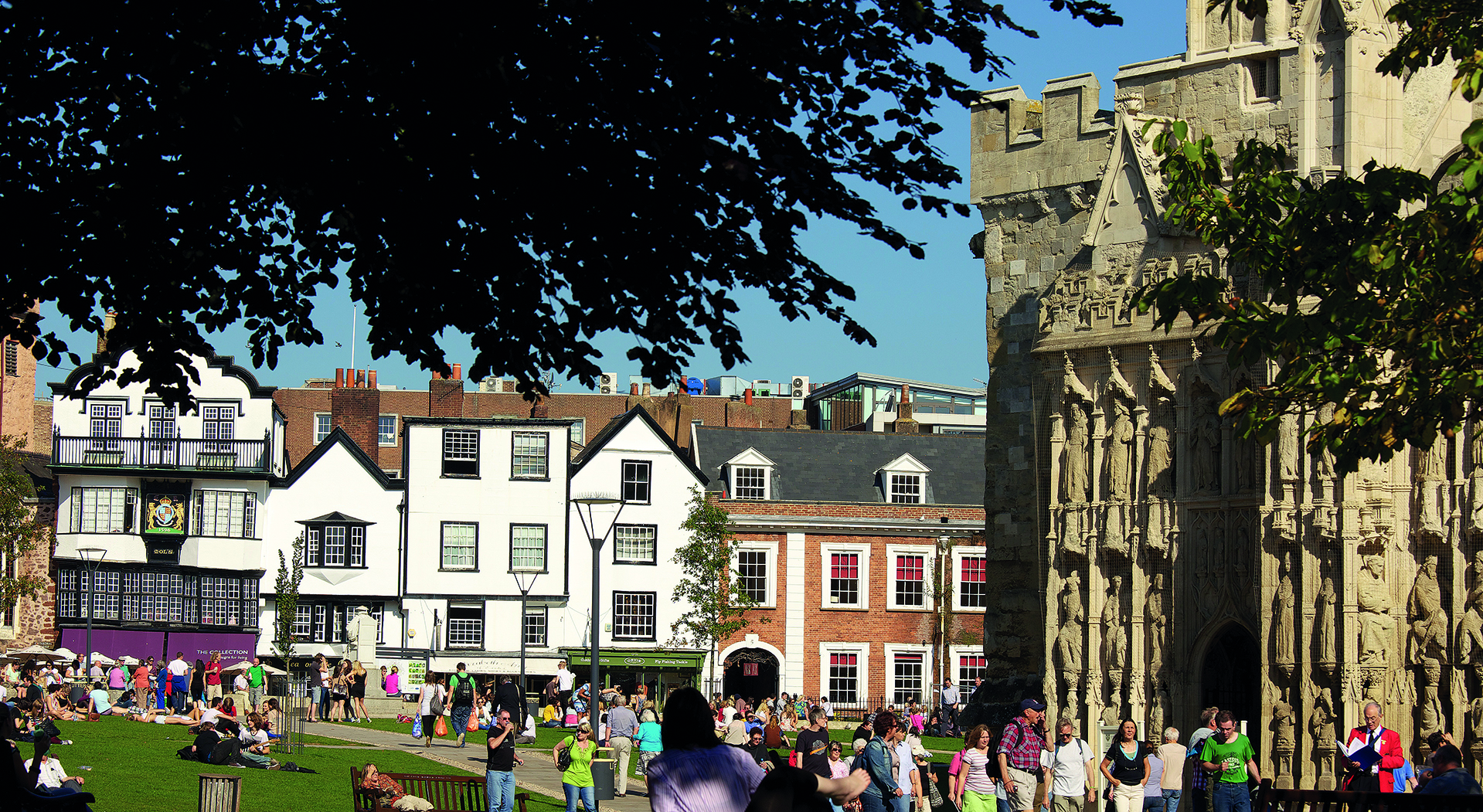 What is living in Exeter like for students?
Exeter is a historic city surrounded by stunning countryside and coastal views. In addition to its rich history, there's a large student population, a vibrant atmosphere and lots of fun things to do – so students living in Exeter will always be entertained.
In the heart of the South West, this friendly and inviting city has both ancient landmarks and modern amenities. You'll discover the Exeter Quayside – a popular riverside destination to relax in the sun, eat good food, shop in independent stores and go on boat trips – as well as a Gothic Cathedral, Roman ruins and cobbled streets.
What makes Exeter a great student city?
Beaches – easy travel to the beach from all campuses for a study break or an end of term celebration in the sun.
History – explore Gandy Street, said to be the inspiration for J. K. Rowling's Diagon Alley in the Harry Potter movies.
Entertainment – Exeter hosts a range of multi-cultural festivals, including international food, music and the arts.
Food – enjoy international street food markets, farmers' markets and a huge variety of global cuisine around the city.
Travel links – travel to London by train in under three hours and catch flights around Europe from Exeter Airport.
What can I do for fun in Exeter?
There's a huge variety of things for students to do for fun in Exeter, including:
Shopping. Buy your favorite brands in the Princesshay shopping mall, with shops including the Apple Store and H&M.
Student nights. Enjoy a selection of pubs, bars and clubs in the city centre and on campus, including The Lemon Grove.
Outdoor activities. Make the most of the nearby coast and go sea swimming or paddleboarding.
Museums and arts. Visit the Royal Albert Memorial Museum and Exeter Phoenix Arts Centre for top entertainment.
Live music. Attend large music gigs at the Exeter Corn Exchange or listen to live music on campus.
Discover more things to do in Exeter here: https://www.visitexeter.com/
What sports can I play in Exeter?
Exeter is a city that is passionate about sport. A host city to the Rugby World Cup in 2015, the Exeter Chiefs is a top Premiership Rugby team that is supported throughout the country. In addition to Rugby, Exeter also has a football team, hosts watersport competitions including annual dragonboat racing and rowing events, and has rock climbing centers.
If you enjoy playing sport, visit the Sports Park on the Streatham Campus. Here, you'll find:
a large gym with cardio and weightlifting equipment
four different types of Astroturf pitches
a sports hall for badminton, basketball and football
a cricket center, tennis center and golf center
an outdoor swimming pool
The St Luke's Sports Center also has great facilities including a gym, sports halls and an indoor swimming pool.
Can I find international food in Exeter?
You'll be spoilt for choice in Exeter, with a wide selection of restaurants and cafés serving global cuisine. You'll find the Exeter Street Food Market during the summer in three locations across the city, as well as regular farmers' markets in and around Exeter where you can pick up local produce and seasonal fruit and vegetables. Popular restaurants include:
Somboon Thai – INTO Exeter students think this the best Thai place in the UK!
The Old Firehouse – popular student spot that serves giant pizzas and burgers.
iFood Thai Taste – authentic Asian dishes that are good value for money.
Dee Yi – authentic and affordable Chinese food that is highly rated by its diners.
Just a stone's throw away from the INTO Center you will find The Forum which hosts a range of international food events across the year. From bao buns to curries and wood-fired pizza, there is something for everyone.
How much does it cost to live in Exeter for students?
As Exeter is a student city, it's entirely possible for students to live here on a budget. Once you've settled in, you'll have a better understanding of what things cost and the best places to shop, but in the meantime, you can consider the cost of:
food and drink
entertainment
travel (local and national)
clothes and toiletries
other expenses, such as haircuts
Find out how to budget at university here: https://www.intostudy.com/en/how-to-budget
Is it easy to travel around Exeter and the UK?
The University is a 10-minute bus ride from the city center, with buses running regularly between the campus and city. As the city center is reasonably compact, you'll find traveling around Exeter easy by walking or cycling.
Exeter also has great rail links, with eight train stations across the city. You'll have easy access to local beaches such as Exmouth, which is under 30 minutes away by train. Or get the train to:
Bristol – one hour
London – under three hours
Manchester – five hours
For travel further afield, the airport is around 25 minutes away by taxi. Fly to Edinburgh, Manchester and countries in Europe such as Spain and Greece. And with connections to the US, you can fly to destinations such as New York from here.